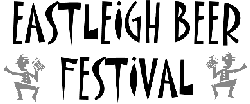 Was held on 1st & 2nd November 2002
at The Nightingale Centre, Eastleigh
Beer of the Festival
Overall Winner
Glastonbury - Mystery Tor

Standard Strength beers
Glastonbury - Mystery Tor
Cheriton - Village Elder
Oakleaf - Farmhouse Ale

Stronger beers
Oakleaf - Piston Porter
Hopback - Hopfest
Spectrum - Old Stoatwobbler

Conkers
Richard Peaty won the conkers competition.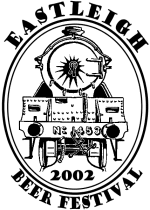 This year's glass logo represents 453 (BR 30453) King Arthur of the eponymous N15 class. This engine was built in 1925 to a Maunsell design that was an upgrade to Urie's 1918 design. 74 'Arthurs' were built and named including the earlier engines which were named retrospectively. A number, from 763 onwards, were built in Scotland at the famous North British works. Only one survived, 777 Sir Lamiel in the care of the York Railway Museum.