Pub of the Year competition 2023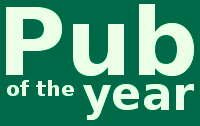 Southern Hampshire CAMRA runs the annual Pub of the Year competition in order to recognise the pub which our members believe to be the best real ale pub in the area. This is also the first stage in a series of competitions which help decide the CAMRA national Pub of the Year.
And the winner is....
Our Pub of the Year 2023 is... Olaf's Tun, Woolston. Congratulations!
The Olaf's Tun will go forward to the Wessex Regional Pub of the Year competition - the next stage in CAMRA's annual national pub of the year competition.
How we select our Pub of the Year
In October 2014, we voted at our branch meeting to change our Pub of the Year selection process, aligning the selection criteria with that which will be applied in subsequent rounds of CAMRA's national Pub of the Year competition (which judges a pub on many criteria including: Quality of Beer/Cider/Perry, Style, Décor, Furnishing, Cleanliness, Service, Welcome, Product Offering, Community Focus, and Atmosphere). The online voting will now be used between November and January each year to vote for a short-list of four finalist pubs.
Only pubs that have been nominated for the next Good Beer Guide through our Pub Reports mechanism will be eligible for voting. Votes can only be made by members of Southern Hampshire CAMRA. After the short-listed finalist pubs have been determined, a team of four judges will each visit all four of the pubs and judge them against CAMRA's national Pub of the Year criteria.
Votes are predominantly made online, but card-carrying CAMRA members of eligible branches can also vote in person at our branch meetings.
Previous winners
See our Awards page for our full list of awards. However, recent winners of the Southern Hampshire Pub of the year have been:
2023
Olaf's Tun, Woolston
2022
Olaf's Tun, Woolston
2020
Steel Tank Alehouse, Chandler's Ford
2019
Steel Tank Alehouse, Chandler's Ford
2018
Guide Dog, Bevois Valley
2017
Bookshop Alehouse, Southampton
2016
Royal Oak, Fritham
2015
Flower Pots Inn, Cheriton
2014
Guide Dog, Bevois Valley
2013
Black Horse, West Tytherley
2012
Guide Dog, Bevois Valley
2011
Wheatsheaf Inn, Shedfield
2010
Guide Dog, Bevois Valley
2009
Guide Dog, Bevois Valley
2008
Guide Dog, Bevois Valley
2007
Guide Dog, Bevois Valley
2006
South Western Arms, St. Denys
2005
Guide Dog, Bevois Valley
2004
South Western Arms, St. Denys
2003
South Western Arms, St. Denys
2002
South Western Arms, St. Denys