Save the Forest Heath Hotel Campaign
Updated: 23/10/2010
Important – a public meeting will be held in Sway Village Hall at 7.30pm, Wednesday 27th October.
The Grade 2 listed Forest Heath Hotel in Sway village has been sold by Admiral Taverns to a private property developer who wishes to convert the site to flats. The usual story of extortionate rents, frequent rent increases and tied house ale and cider prices forced the landlord of 4 years to hand in the keys a year ago despite starting to make a profit from the business. The pub has been closed since his departure.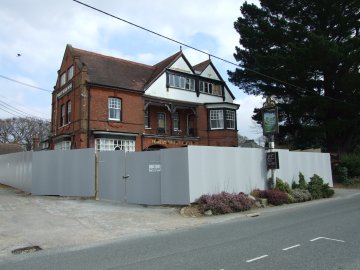 The public house is the focal community point in the centre of Sway, adjacent to the main Bournemouth to London line railway station with the nearest other pub a mile away from the centre of the village. Sway is in the New Forest National Park and the pub has featured in several tourist guides. The pub has a large garden with a 150 year old tree, a rare two bar arrangement and letting bedrooms.
A small steering group of local residents has been formed to attempt in the first instance to prevent change of use of the premises to residential development.
Posters are to appear in the village with the following aim of the Forest Heath Hotel Steering Group:
"Our aim is to preserve the listed building at the thriving economic heart of Sway - a village at the centre of New Forest National Park tourism."
A Facebook Group - Save the Forest Heath Hotel - is already in action and inviting friends to participate and for those who wish to see this rare facility rightly retained as a pub they may alternatively e-mail their support directly to Brian & Trudy Hetherington-Ford or telephone 01590 681696 or 07870 335681.
Southern Hampshire Branch member Peter Simpson lives very close to Sway and is assisting Brian & Trudy by providing access to CAMRA resources. The local branch is also giving its full support to the campaign to retain the Forest Heath Hotel as a pub, having voted overwhelmingly to do so at its March 2010 branch meeting.
The Planning Application has now been lodged with the National Park Authority under references 10/95752 & 10/95753 and is on the NPA website. The site isn't easy to navigate, follow 'Planning Questions', 'Development Control', 'View Applications'. This link might take you straight to the application search page, type 'Sway' into address box.
Objections to change of use need to be registered within three weeks from the date of lodging which has already taken place (04/10/10).
A public meeting in Sway Village Hall is to be held on 27 October 2010 at 7.30pm.

Press Coverage
The "Save the Forest Heath Hotel" Campaign has been getting excellent coverage in the local media. Online coverage that we've found so far is listed below: