Hop Press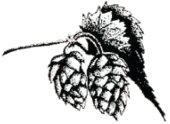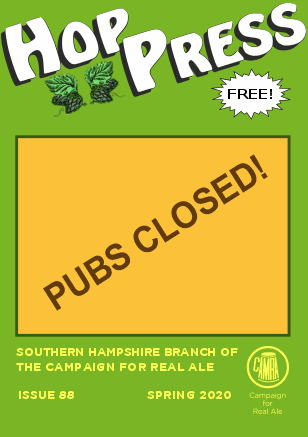 Issue 88 – Lockdown 2020

Go to Previous Hop Press Browse for another Hop Press
Go to Next Hop Press
Hop Press is normally a paper publication, distributed to pubs, but there are no pubs open so there's no paper version of Spring 2020 Hop Press. But we do have Pubs News and some other regular articles and which we will show below on-line only. Being on-line the content can be dynamic, so pop back now and again to see what we've added – articles will have dates.
Contents

EDITORIAL 03/05/2020 Hop Press index
Troubled times certainly, overwhelming any words that can put into a rational Editorial.
Trying to imagine the pub/brewery scene once re-opening eventually comes is a frightening prospect – how many of our favourite locals will not have survived? Many hundreds nationally, I am sure.
As bad, or worse, the wonderful explosion of small breweries we have witnessed in the last couple of years, will that be cruelly slashed back? With so many opening on tiny budgets of their entrepreneur owners' savings, this must be all too likely.
Even with these obvious factors there is still one even more uncertain variable, one without previous precedence as a guide, the customers' fear factor. A pub is not a pub without many elements of closeness – to friends, to strangers, to the staff and to the owners. But after this year's unique experience how will the average former pub-goer feel facing those front doors again? How many will be inclined to return to the stock of supermarkets tins and bottles in the larder at home? More than a few, I imagine!
Though looking forward to re-opening, the time I really hope to see is when lockdown becomes not just a memory but a (not so fond!) genuine reminiscence…
Pub News April 2020 Hop Press index
After a few days of confusion when some pubs were open and others closed, the Government ordered a lockdown on 20 March. At the same time, many off-licences also closed but they were later added to the list of essential retailers.
All pubs are currently shut for on-sales (a few are still offering off-sales) and there is no prospect of them reopening in the near future. When the lockdown was announced some outlets got rid of the draught stock they were holding at reduced rates or for charity donations. Some breweries and a few pubs are operating beer deliveries. CAMRA has set up a website that contains the latest information – camra.org.uk/pullingtogether/brewery-initiatives. Other pubs are offering a food delivery service. Online pub quizzes are also proving popular.
There have been a couple of reports of pubs suffering break-ins. Some pubs have put up notices to say that there is no cash or stock remaining on the premises, while others have been boarded up.
When the lockdown is lifted, the pub landscape may be very different to how it looked when it was imposed. Having collected pub news over the last few months in preparation for a late spring edition of Hop Press we have decided to produce an on-line version of pub news as it would have appeared at the time of the lockdown. The position may have changed significantly when we are again able to visit our favourite watering holes.
We are not certain whether some of the pubs we mention as being refurbished actually managed to reopen before the lockdown. Although planning and licensing applications are continuing to be submitted, some of the decision making may be taking longer as we have spotted that some committee meetings have been postponed by local authorities.
We have reports of some pubs that may have closed before the lockdown but have generally omitted this information in order to minimise any errors in current status of pubs.
Southampton: The Avenue
Handle Bar, The Avenue, Southampton
Open for just a few weeks before the lockdown was Handle Bar at Stag Gates. It occupies the site that has previous housed by various bars, including Dock o' the Bay. There is a bank of handpumps and on opening day, 27 February, Steam Town and Dark Star beers were much in evidence. A look at licensee Christian Astridge's upper lip will reveal the origin of the new name. Before the enforced closure there were plans to introduce a simple lunchtime menu.
Continuing north, there was an even shorter period of trading for the refurbished Cowherds, which reopened on 20 March. This presumably included the installation of the new signage and changes to the external seating layout, for which planning permission was granted earlier this year.
Southampton: Shirley
The Winston Hotel, on the corner of Archers Road and Hill Lane, was due to reopen on 10 April after refurbishment as The Winston Sports Bar and Grill.
Moving to Shirley Road, the Brass Monkey was also due to reopen to customers in March after a £140,000 refurbishment. It has become part of Ei Group's Craft Union chain. Long standing licensee Debbie Edwards was due to continue her eight-year stint at the helm.
A licence has been granted to sell alcohol at the 329 Coffee House in Shirley Road. The application stated that the owners were, "Looking to add alcohol to expand our services." The coffee shop opened in May 2019.
Southampton: Regents Park
The Regents Park is looking for new tenants. This comes less than a year after it reopened following a £400,000 refurbishment
Southampton: Bedford Place/Above Bar
Shenanigans opened towards the end of last year in what was previously Seymour's Wine Bar. There is live music at weekends and both English and Irish sports are shown on the big screens. It is owned and managed by Ged Gorrie and his business partner Bill Dearsley. Ged is quoted as saying that the city has, "always lacked a cosy Irish boozer". Ironic then, that it opened shortly before the Spitfire reopened as O'Neill's following a two-week refurbishment, though cosy probably isn't the first word one would think of to describe the vast spaces of the latter.
Southampton: Above Bar
Just before the lockdown, the Art House managed to raise the £25,000 it required to remain open and develop for a more sustainable future by the beginning of March. Ironically, the venue, which offers gigs, art, a licensed bar and café, has seen its food trade decrease as vegan food, which it specialised in, has become more widely available in other outlets. The plan is to concentrate more on the stage and art aspects. One wonders what the future holds for such ventures when the lockdown ends. Due to it being a not-for-profit social enterprise, the financial difficulties are in the open. Other venues, that are privately or commercially owned could similarly be sailing close to the wind, without public knowledge.
Across the road and into West Marlands Road, an old name has reappeared. The Painted Wagon now adorns the premises next to the Stage Door. Advertised as a sports pub, preview pictures show a strong Saints theme, though it didn't have time to open before the lockdown. The original Painted Wagon, on the same site, was part of a national chain built on the premises of ABC cinemas. Other examples appeared in Huddersfield, Preston and Sunderland.
Southampton: Below Bar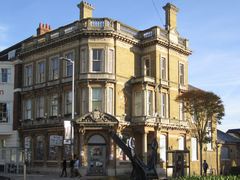 Ferryman & Firkin, Southampton (2012)
We mentioned in the last edition that Turkish restaurant Ottoman Kitchen, which is located in the building that at one time hosted the Ferryman and Firkin, had been nominated for an award. We are pleased to report that it was subsequently judged the "Best Middle Eastern Restaurant in the UK" in the 2019 Asian Curry Awards.
Southampton: Bitterne
The Station at Bitterne has been designated a "safe place" as part of a scheme that looks to reduce crime in the city. The idea is that places that are participating in the scheme can be used by those who are feeling threatened or uncomfortable to call the emergency services or friends.
In November four fire engines attended a fire at the former Big Cheese in West End Road, which closed in 2017. It was described by the fire and rescue service as "not a particularly big incident." The building has since been demolished.
West End
The Two Brothers at West End has ceased serving real ale. Apparently, this has been occurring at a number of M&B food-led outlets. Though many will not mourn the loss of Doom Bar on the handpump, where will it end? It is understandable that pubs do not serve real ale if they are unable to get sufficient throughput to keep it viable but we don't want to get into the position where real ale is seen as a niche product sold in a handful of specialist outlets.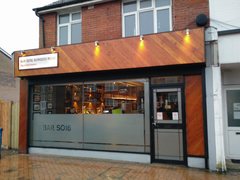 Bar SO16, Southampton
Southampton: Bassett
One place where Doom Bar was available was at the opening of Bar SO16, Burgess Road at the end of January. Unfortunately, this was the only real ale on offer, though it has many keg beers.
Southampton: Portswood
The Loungers group, which includes Trago in Portswood and Santo in Shirley among its outlets, announced a big increase in annual income for the 24 weeks to 6 October last year. As a result, it was suggested that it has the potential to triple in size to some 500 outlets in the UK.
Staying in Portswood, an application to create a food court, bar(s), a takeaway and a soft play area at the back of the Broadway in Portswood Road has been granted. They will be based in a former laundry building. Opening hours requested were 8am to 10pm Monday to Friday with opening at weekends at 10am.
Vape & Craft opened at 117 Portswood Road, close to Waitrose, at the end of November. There is a long room with the bar at the front, which has 10 taps with 7 kegs, 2 lagers and 1 cider but no real ale. The back half contains a counter selling vaping items. It was previously trading as Vape & Smoke.
There has been a major change at the Bookshop Alehouse. It closed from 25 January to 14 February now features a downstairs venue space. It is generally open to all customers but may be booked for private functions.
Southampton: St Denys
The management of the Dolphin St Denys was hit with a £5,000 fine following a long dispute over the volume of the music when bands and DJs played the garden stage. Pub tenants Corrine Yendle and Damian Etherington plan to install improved sound proofing for the stage.
Eastleigh
Continuing northwards, the Chamberlayne in Eastleigh town centre underwent an internal and external refurbishment in January.
On 7 February there was a launch party for The Burger Priest's Confessional Lounge. It is a craft beer (mainly bottles) and gin bar located on the top floor of the Swan Centre (opposite the cinema). The modern decor inside features semi-circular seating booths with totem pole style wooden pillars. There is no real ale available.
Horton Heath
Elsewhere in the borough, the long-awaited reopening of the Lapstone at Horton Heath had to be postponed. It had been intended to reopen at the end of March, some two years after it closed. There was a threat that the pub would be demolished and replaced by housing but new owners, Chandler's Ford based Thirstee, have invested more than £1m in bringing the pub back up to scratch.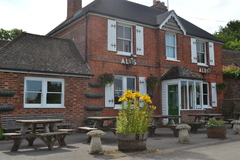 Hampshire Bowman, Dundridge
Dundridge
The Hampshire Bowman at Dundridge reached the regional finals of the Countryside Alliance Awards. Regional winners will be announced in May and were due to be followed by a grand final to be held at Parliament in June.
Botley
In the village centre, permission has been granted for various signage, lighting and advertising at the Bugle Hotel.
Hedge End
Just over a year ago planning permission was granted to convert 5 Lower Northam Road, Hedge End from a shop (it was previously a card shop) to a Micro-Pub. In February this year a premises licence was obtained for the property. Permitted hours are 9am to 11.30pm every day, though actual opening times could vary. The trading name is listed as "Cocky Pub". It hadn't opened at the time of the lockdown but work has been taking place.
There had been rumours circulating for a while and eventually the Botleigh Grange Hotel went into administration in January. The 17th century venue has 55 bedrooms, function rooms, a restaurant and bar, all set in extensive grounds. The hotel was marketed for £4m and was sold to an unidentified "extremely experienced" overseas hotelier in February.
The Shamblehurst Barn has been keeping passers-by entertained by publishing quotes on its roadside noticeboard that usually advertises events and offers at the pub.
Otterbourne
The Old Forge at Otterbourne reopened in December following a £330,000 refurbishment. Among the new features is a private dining area that can be reserved.
Twyford
In nearby Twyford we were sad to hear of the death in November of Paul Mundy, who for 35 years had been licensee of the Phoenix. A regular entry in the Good Beer Guide during that time, the pub has also hosted CAMRA meetings in the skittle alley in the past. We send our condolences to his partner Emma, who, with her youngest son Tom, is looking to continue to run the pub in the same successful way.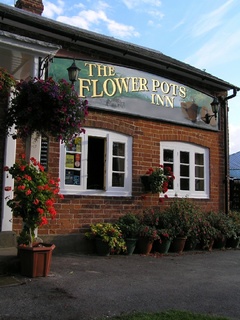 Flower Pots Inn, Cheriton
Cheriton
There have been a number of changes at the Flower Pots in Cheriton over the last few months. Both the pub and the brewery were purchased by Pots Holdings (a small group of villagers) at the end of November. The new owners are keen not to spoil the inn's character and for it to continue to be a proper village pub. David Robinson and Sian Tabberer are now running the pub. One early change they made was to open all day Friday to Sunday and Bank Holiday Mondays. Previous owners Paul Tickner and Jo Bartlett still live locally and continue to own the Wheatsheaf, Shedfield and the Albion, Winchester. We wish them both a long and happy retirement. The pub's interior has been painted and there have been sympathetic renovations inside and out. In time There may be some changes to the structure of the pub. An application has been submitted for relocating the kitchen and the creation of another serving area in the room next to the small bar, though this has not yet been approved.
Winchester
On the outskirts of the city centre, a revised application to extend the Black Rat restaurant in Chesil Street has been approved. The venue is under the same ownership as the nearby Black Boy pub.
During last summer, local artist Don Lavelle spent many hours capturing the sights of Winchester High Street. The result of his labours can now be seen on a large canvas in Greens Bar in Jewry Street. The picture was painted entirely on the spot. Two dozen people knew they were being painted - even the local MP was added when he was holding an open-air meeting.
Romsey
Two planning applications were submitted at the end of last year for the Dukes Head in Greatbridge Road. The following are extracts from the one of the applications: "…the emphasis will be on providing a friendly environment and high-quality restaurant… The scheme also seeks to provide a two-storey building to the rear of the site to be provided as offices. This will provide an additional source of income so as to help ensure that the viability of the Dukes Head is maintained… The applicant is part of the team that has recently purchased and refurbished the Four Horseshoes Public House, Nursling Street… As a community asset it is therefore clear that significant funds are required to bring it back to a beneficial use as a public house. However, in addition, facilitating works have to take place in order to help ensure the viability of the public house." This application for offices has been granted.
There was a separate application that has 12 bed and breakfast rooms instead of the offices. The council has asked for further information from the applicant before making a decision. This pub has had a chequered history over recent years. The application has not been universally welcomed with a lot of comments on the increased traffic that would be attracted.
There are new licensees at the Bishops Blaize. Chantelle Mason and her partner Charlie Leslie took over the Winchester Road pub towards the end of last year. Chantelle had previously been working at the pub for some 18 months and was pleased to take over the lease when it became available.
The Abbey Hotel has been sold. The new owners are Romsey-based The Brightbeech Group. Permission has already been granted to, "Lower height of ground floor window sills on west elevation." The application states that, "The new owner Brightbeech Property Ltd wishes to bring back the buildings to good condition and attract a tenant. The subject of this application is to lower the existing ground floor window sills to make the unit more desirable to any potential tenant." Subsequently an application has been submitted to convert the property to retail and housing, with the loss of the pub and hotel.
We mentioned in the previous edition of Hop Press that an application was expected for the construction of 36 retirement apartments on land at Abbotswood that had previously been earmarked for the provision of a pub. There were numerous objections to the plans. A decision by Test Valley planners was expected at the end of March but at the time of writing no decision had been recorded.
Nursling
We just caught the reopening of the Four Horseshoes in Nursling in the last edition of Hop Press. Early trading seems to have gone well and among the real ales on offer were Romsey Gold, Ringwood Best and Doom Bar.
Totton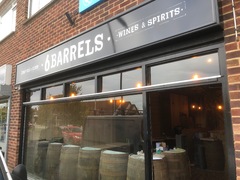 6 Barrels, Totton
As predicted in the previous Hop Press, the 6 Barrels micro-pub has opened in Salisbury Road, Totton in what was previously the Noo-Thai restaurant. This medium sized micropub comprises one room with benches and tables. The bar has with four handpumps and more casks (gravity fed) in the cool room. Steam Town, Tiny Rebel, Stonehenge and Vibrant Forest beers are among those to have featured.
The nearby Grade II listed Keys in Commercial Road has been granted permission, "…for repainting the entire building in a light grey with a darker grey plinth, changing the name of the building back to Cross Keys, a set of timber letters in black to spell out the name of the inn, two timber amenity boards in black with white lettering and the sky sports and BT sport logos which would replace two existing signs…"
So we are faced with the prospect of yet another grey pub. There must have been a lot spare grey paint following Royal Navy cutbacks. We seem to recall an episode of "The Navy Lark" that featured such a scenario.
Waterside
The Bold Forester at Marchwood reopened in February following a six-week refurbishment. A new lounge area was created and the restaurant was divided into a variety of dining areas. The carvery has disappeared and on the beer front, Ringwood Best and Fortyniner plus a guest beer are on offer. A further change has been proposed with an application being submitted to convert the former skittle ally into four letting rooms. Although it would mean the loss of the skittle alley, it was not in use when current owners Debbie and Duane Lewis took over the pub in 2018. The couple run five other pubs in the New Forest including the nearby Mortimers Arms at Ower. They point out that those looking to hire a skittle alley could do so at the Mortimers Arms.
Continuing south, in Beaulieu an application has been submitted to rebuild a staff cottage at the Montagu Arms to create guest accommodation.
An application to build seven houses on the on part of the site of the former Flying Boat pub at Calshot has been rejected by planners. Despite support from, among others, the parish council, the National Park Authority's executive director of strategy and planning, Steve Avery, said, "This application goes against every single policy we have in the local plan." The pub was originally the officers' mess for the RAF squadron based at Calshot.
Woodgreen
As mentioned in a previous edition there are new owners of the Horse and Groom at Woodgreen. While the pub was shut in 2018, a pop-up pub was set up in the village church. Despite the reopening of the Horse and Groom, the pop-up pub made a brief reappearance from noon to 2pm on Christmas Day 2019. The event had the blessing of Horse and Groom landlord Jason Schinkel.
Ringwood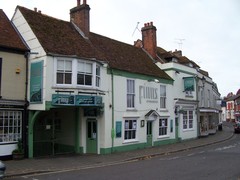 Finns, Ringwood (2003)
One former pub in Ringwood may see a new future. Finns at 25 Market Place, which in the past was the Red Lion, is part of a scheme that will see changes to 25 and 25a. The application states: "Convert 25A Market Place into a 3 bedroom dwelling, conversion of Coach House into 1 bedroom dwelling, change of use of 25 Market Place (including internal alterations) from A4 / A3 public house / restaurant with staff accommodation above to a flexible use for B1(a) offices, A2 (professional services) or A1 (retail), together with a self-contained residential flat and develop land fronting Strides Lane to provide a new access, the construction of six dwellings, gardens and private parking spaces together with circulation space and landscaping at 25 and 25A Market Place Ringwood. (The site)"
Minstead
One postponed opening is that of the Minstead village shop. It is to be housed in the Trusty Servant and was due to open soon after Easter, with an official opening ceremony in May. Sadly, this has now been put on hold.
Lyndhurst
It is to be hoped that there will soon be a resolution to the saga of the Lyndhurst Park Hotel. The new owners, Holbourne Development, are a local company. The draft plans, which have not been submitted at the time of writing, include five shops and 77 homes (66 flats and 11 terraced houses.) The section of the former hotel that was designed by Sir Arthur Conan Doyle will be restored and eight holiday apartments created.
Brockenhurst
An application has been submitted to add an extra 38 bedrooms to the Balmer Lawn Hotel. There would also be an extension to the function room, changes vehicular access plus the planting of 100 trees.
A proposal to extend the commercial kitchen area to the rear of the Snakecatcher has been granted subject to conditions to ensure the external appearance of the extension is in keeping with the existing building. Permission has also been granted for a, "…detached building in the garden area to assist with the main kitchen when serving sandwiches, crisps, ice cream etc. All preparation would be done in the main kitchen." It would be located at the rear of the garden area.
Preparing to open in the spring was Commoners Wine Bar. This was to be a new venture at 66-68 Brookley Road for the locally based Perry family. Some 24 wines are due to be available by the glass but there is no mention of beer or cider in the pre-opening publicity. It will be open 9am to 10pm every day. The name is shown as COMMONEЯS in some cases.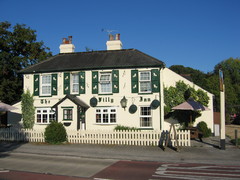 Filly Inn, Setley
Setley
The Filly Inn closed in January for refurbishment and was due to reopen in April.
Sway
The Silver Hind in the centre of Sway is under new ownership. It was purchased in October by former customers Garratt 'Tup' Wickham, Richard Spargo and Mark Lanning. The pub has undergone a revamp but the bar area remained open during the work. In February food returned and before the lockdown they were already investigating setting up a takeaway menu.
New Milton
An application for various changes to signage at the Walker Arms in New Milton was successful. The fire brigade was called out to the pub earlier this year. Usually such call is in response to a kitchen fire or perhaps flooding but this was a little different. A four-year-old girl had got her hand stuck in a pool table pocket. The young girl was safely extracted from her predicament unhurt, unlike the pool table which had to be replaced after it was cut into by the rescuers. Fortunately, the pub usually has two pool tables, so games were able to continue.
Milford-on-Sea
Following the rejection of a previous application for four houses, planning permission has been granted to construct three houses on land to the rear of the White Horse, Milford-on-Sea.
The Wash House was shut for 11-day refurbishment in January. Amongst the changes, tables are now painted black and have many pump clips on the surface, covered with glass. It is also part of the safe place scheme, mentioned above.
Lymington
The Six Bells in Lymington suffered two break-ins following the lockdown, though all stock and cash had been removed. As a result, owners Wetherspoon arranged for the pub to be secured using metal shutters. This led some locals to believe that the current closure would become permanent but Wetherspoon confirmed that the pub would reopen when the lockdown ends.
At the Walhampton Arms an application has been submitted for the, "Conversion of existing function room, bedsit and cellar to facilitate 6no. new letting guest rooms; partial Conversion of existing trade kitchen into a cellar; alterations to doors and windows."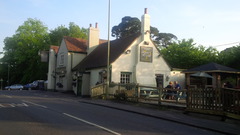 Monkey House, Lymington
Another pub on the outskirts of the town is hoping to add a new brewery. The proposed scheme involves replacing an existing extension to the Monkey House and a smoking shelter with new, higher quality buildings that fit better with the existing architecture. The application states: "The proposals include an extension of the pub to provide accommodation for a microbrewery, internal alterations to suit this addition; replacement of 3no UPVC windows, an extension to the outbuilding to improve storage facilities, and upgrade of its external materials, and alterations and repair to the Toll House, which is to be used for storage and brewery tours."
The application states the company name as Monkey Brewhouse and in one of the drawings the signage shows "The Monkey Brewhouse – Pub and Microbrewery". Licensee Will Bradshaw has previous brewing experience at one of the Brewhouse and Kitchen group in Bristol. If it hadn't moved to new premises in Hardley, the new brewery would have been just a mile away from Vibrant Forest. There have already been letters of support for the new venture from local residents.
So despite the general downbeat mood at present let's look forward to having a new brewery to visit in the future. And a new micro-pub in Hedge End.
As mentioned above CAMRA nationally has been working had to supporting breweries and pubs during these difficult times. This includes supporting calls for temporary financial changes that would help, such as asking pub owning companies to waive rents during the lockdown.
For pubs that do survive, there is some good news. In his first Budget, the chancellor Rishi Sunak abolished business rates for many smaller pubs. He raised the business rate discount for small pubs from £1,000 to £5,000, describing pubs as the centre of community life, saying too many had closed over the last decade.
CAMRA national chairman Nik Antona said: "The abolition of business rates for pubs with a rateable value under £51,000, and the £5,000 discount for those with a value up to £100,000 is great news for qualifying pubs, and we are glad that the Treasury has listened to our calls for action. The announcement of a review of the business rates system is welcome, and this must happen as soon as possible."
Although sadly much beer is going to be wasted during the lockdown, we are hoping that in a number of pub and brewery cellars there are strong real ales that will mature over the coming weeks to provide some exciting new tastes when the pubs do eventually reopen.
Non-Competition Crossword Hop Press index
QUETZALCOATL (download printable pdf version here)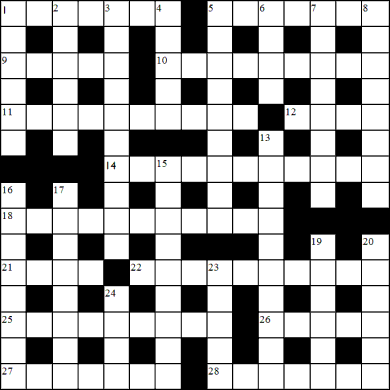 Across
1
Early church advocate lets beer take over job (7)
5
Boris came out as lost – just a tiny bug (7)
9
Short stardom in parcel Ebay boxed (5)
10
For a huge blow-out just add this to some classic starters. (9)
11
Linda, nerdy school aid (6,4)
12
Bowled a jolly frothy head (4)
14
Paper payment of a Lord for his poster appearance (6.5)
18
She could constructively cleave a load of complex maths! (3,8)
21
A pledge of all that he starts (4)
22
Ruin lots of pithead features. (5,5)
25
Hate even gay blooms in neat ties. (9)
26
Fowl found around Xmas (it is said) in Grenoble! (5)
27,28
Barman, into alcohol – too much for this Republican leader (7,7)

Down
1
No gentleman in French area gallery (6)
2
Outline no blog can convey (6)
3
Plant oboes to grow a 1 oz measure! (10)
4
Sly, thin carnivore loses head making a stand (5)
5
Stage or screen a moral made over-sensational? (9)
6
Manage a hood (4)
7
Expansion was Tudor construct (8)
8
In a word, ad infinitum! (8)
13
Wellington's capital battle transport (10)
15
Rural enterprise where safer hemp is grown (5,4)
16
For Oran, a map evokes a wide vista (8)
17
Devonian plea heard? Extra pub use! (8)
19
Summerhouse, double-glazed but un-dulled (6)
20
A sailor's behind as a seabird (6)
23
Perfect! Just hide dear old hearts (5)
24
Search asked for, of Punjab maybe? (4)
For this on-line edition the crossword is a non-prize one, for amusement (or masochism) only! Solution around June(ish) - see below.
Issue 87 (Winter 2019) Solution & Winners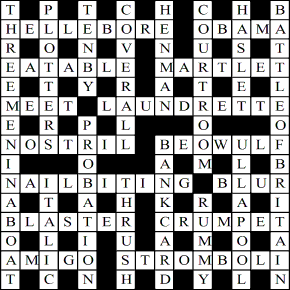 A good entry for this edition, 26, although 2 unfortunately had single word errors. One was taken aback by the whole answer to 7 down (HASLET) being in plain sight in the clue so contrived an ingenious alternative.
Winners, drawn from the hat, were:
Ron Brading, Southampton
Tony Haefliger, Hythe
The other twenty-two correct solvers were:
Jocelyn Britcher
Nigel Cook
Rod Cross
Philip Doughty
Dave Ellison
Martin Gardner
J. E. Green (St Albans)
Simon Gunther
David Hancock
Stephen Harvey
Norman Hurl
Ellen Jackson
Keith Jones
Gary Morse
Chris Neale
Tim Parkinson
Jeff Philips
Rebecca Pink
Harvey Saunders
Martin Sirl
Trevor Smith
Howard Sprenger
Issue 88 (Covid-19 Lockdown) Solution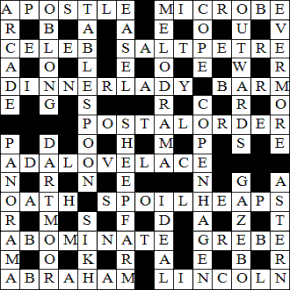 I hope you all enjoyed this just for fun issue, of course I've no list of successful entrants to put in.
Hop Press issue number 88 – Lockdown 2020
Editor: Pat O'Neill
1 Surbiton Road
Eastleigh
Hants.
SO50 4HY
023 8064 2246
hop-press@shantscamra.org.uk
© CAMRA Ltd. 2020