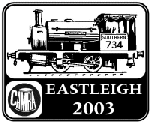 OK, this is last year's logo - you'll have to come to this year's Festival to see this year's logo.
The 2003 Festival Logo was Clausentum, a Southampton Docks shunting engine maintained at Eastleigh.
This year the beer selection has a Scottish theme - one side of the bar will have beers exclusively from Scotland, with the emphasis on lesser known beers. The other side of the bar will feature a range of beers from Somerset plus a good selection of our local beers.
Open Friday lunch 12.00 - 3.30pm, evening 6.30 - 11pm, Saturday lunch 12.00 - 4.00pm, evening 6.30 - 11pm.
Evening admission £4 (includes festival glass),
Friday and Saturday lunchtimes FREE admission.
Over 30 real ales, plus ciders & foreign bottled beers.
Food available all sessions.
Entertainment:
Friday evening - Fair Warning (Rock covers)
Saturday evening - Heelstone (Electric folk)
Saturday lunchtime will hopefully have pub games & the annual conker competition.
£1 beer tokens on showing your CAMRA membership card.
Staffing
All our Beer Festivals are run by volunteer staff. Working at a beer festival is great fun and we always welcome more staff. If you would like to help us, either during set up from Wednesday onwards, or during the open sessions, please click here or email staffing@shantscamra.org.uk .