Hop Press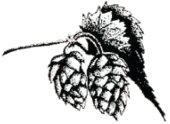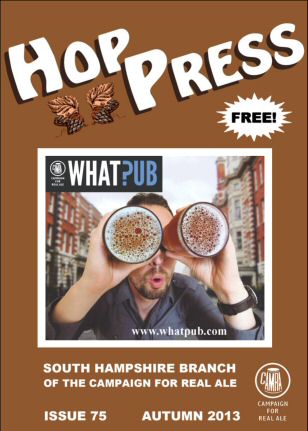 Issue 75 – October 2013
Go to Previous Hop Press Browse for another Hop Press
Go to Next Hop Press
Contents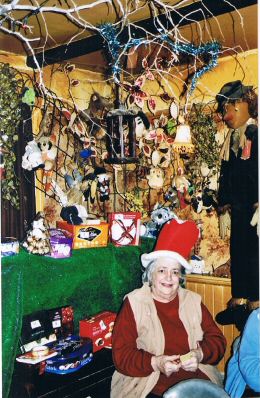 Janet Cook 1933 – 2013
This issue of Hop Press opens on an extremely sad note as we bring news of the death of Janet Cook, licensee of the Good Beer Guide listed Newport Inn at Braishfield. It is a hackneyed phrase, perhaps too banal, but in Janet's case her death really does signal the end of an era. Her funeral, on a rain swept October 16th, was attended by up to 500, totally filling the church and the adjacent church room.
Janet was born, in 1933, as Janet Marian Cottle. Her father, then a salesman, 'worked in ladies' underwear' and lived in New Milton but soon had the chance to 'take on an inn' and became licensee at the Newport Inn around the outbreak of war. A bright pupil, Janet went to Southampton's Girls Grammar School and after leaving started a career as a draughtswoman working locally at Hursley Park, first for Vickers-Armstrong and subsequently IBM.
In 1969 Janet married Bernard Cook and in 1971 they took over the Newport from her father. An exuberant personality – she performed in local pantomimes and even a tap dancing school – at the pub she came into her own such that the Saturday night sing-songs with Janet at the piano will not be forgotten by any who attended. Our picture (courtesy of Ash Mather) is from Christmas 2006 with Janet, as she'd like to be remembered, in party mood.
After Bernard's death, four years ago, Janet continued to run the pub, by now owned by Fullers after their purchase of the Gales Brewery, but struggled with ill health and for the last few weeks of life was forced to move into a nursing home but even here she led the other inmates in community singing…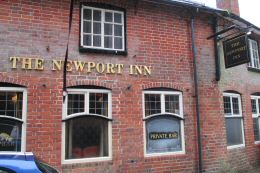 Newport Inn
What will become of the Newport is a very moot question. The style of pub never really melded with the Fullers corporate image (it has never appeared on their website) so in all probability time may finally have been called there but we fervently hope not. It is down to you, Fuller, Smith and Turner.


September each year brings the predictable bluster and hyperbole of the political party conferences. This year some concerns were aired about the levels of party membership; in the ruling coalition the Liberal Democrats claim only some 43,000 paid-up members and the Tories' website claims 134,000 although a number of political commentators allege that it is really below 100,000. What has this to do with a publication concerned with pubs and beer?
Nothing perhaps but it just brought to mind the membership of CAMRA which in August topped 150,000 for the first time, up an amazing 238% in the past ten years! Of this membership women now account for some 33,000 (22%) and represent a growing proportion. The Campaign for Real Ale's four founders, in 1971, could not possibly have dreamt of such an outcome.

Visiting the realm of statistics brings to mind the probably the most remarkable aspect of the newly published 2014 Good Beer Guide – the continued growth of independent breweries, there are now 1147 separate breweries in this country, an increase of 187 in the last year alone. With this increase in producers comes an increase in the number of regular beers we can choose from – now well over five thousand.
One area that has shown particular growth is Greater London, in the past year 23 new breweries have opened within the M25 more than doubling the previous number. Included in these openings was a resurrection of the Truman name, once the second largest brewery in the country. The new venture is a £1m investment in a 40-barrel plant just a few miles from the original Brick Lane site of the first Truman brewery which started in 1666. Their first brew was a special bottle-conditioned stout made for laying down and limited to a 2000 bottle run. At a daunting 8% abv and brewed exactly to a recipe from the Victorian era the beer is the first in an 'archive range' of historical recreations.

The end of September also saw the publication of the seventh annual Cask Ale Report. This outlines the health of the cask beer market and its impact on the pub trade in general; its conclusions continue to give much encouragement to our campaigning for real ale (and involve yet more of a blizzard of statistics!).
Whilst the total on-trade beer sales continued to fall and pubs continue to close, in the pub's one-sided battle with the give-away supermarkets, the proportion of the sales that were cask-conditioned ales kept its ascendancy and now leads by some 7%.
Despite the continuing decline in total pubs, the overall proportion of pubs featuring real ales also continues to grow – by several thousand last year – but the really significant change is in the variety of real ales on offer; almost 50% more pubs were offering four or more ales in 2012 than in 2011!
The report is available as a pdf download from: www.caskreport.co.uk its pages provide invaluable insights into the workings of the beer trade and into the 'drivers' and 'barriers' to cask beer sales plus remarkable glimpses of how a real ale drinker arrives at the decision to choose and order his (and now, more so, her) pint.

---
---
Rob Whatley

Pennington
Each week the Lymington Times provides its readers with a full listing of planning applications submitted to the New Forest District Council and New Forest National Park Authority. Decisions on previous applications are also given. This service is a great help in keeping track of potential changes to the area's public houses. The August 17th edition, though, painted a particularly bleak picture, among the applications one listed the changes needed to enable the Sportsman's Arms in Pennington to become yet another Tesco.
Hythe
In the decisions section was the confirmation of permission to erect signage and cycle stands for another Tesco store conversion at the Croft. Much to the understandable annoyance of the planning committee, the store opened before permission had been granted for some of the changes that had been made. Permission was subsequently granted to construct nine dwellings on another part of the site.
Holbury
Further down the A326 there was notice of permission being granted to add single storey extensions to the Holbury Inn and to convert the first floor into two flats. William Morrison Supermarkets have subsequently applied for various changes to be made to the ground floor. The company also ran an advertisement in a local newspaper saying that it is planning to expand its chain of convenience stores and that pub conversions would be among the suitable premises they were looking for.
Totton
The final chapter in this slough of despond was that permission had finally been given to construct a MacDonald's on the site of the former Red Lion in Totton.
Eling
There is much better news from Eling, where the King Rufus is now a free house, having been purchased from Punch Taverns by new owner Mike Symons, who will run the pub with the help of his two sons Dave and Mark. The pub is now open all day with five real ales on offer.
Marchwood
A former publican who at one time considered taking on the aforementioned Croft has died. Ron Longman was well known as the licensee of the Pilgrim in Marchwood for more than 30 years. Ron was working as a BBC cameraman when he purchased two derelict cottages and converted them into a thriving pub, which he sold to Fuller's in 2007.
Burley
Another Fuller's outlet, the White Buck Inn, Burley, is set to double its number of bedrooms from eight to sixteen following the granting of planning permission. The kitchen and function room will also be refurbished. As perhaps a sign of the increasing use of bicycles to explore the New Forest, permission has also been granted to construct a cycle stand.
Lymington
In Lymington what was Graze in Gosport Street is now Wytes tapas bar. The future of a venue in Bath Road is still undecided, the owners of Fine Food 4 Sail have applied for retrospective permission for a change of use from commercial offices and coffee shop to a mixed use café, restaurant and bar with associated outside eating and drinking space. While many customers support the application there have been complaints about noise from local residents. The decision, has been adjourned from September until November.
On the outskirts of the town, the future of the Tollhouse is still uncertain. We reported in the last Pub News that it had reopened following a period of closure while it was repaired following a fire. However, it closed again after a few weeks and is currently looking for new licensees.
Pilley
There is better news a few miles to the north as the Fleur de Lys in Pilley has reopened. Paul Hill and Sallie Adams have taken over the pub which had been closed since January. Paul has 30 years' experience in the industry and the couple have run eight pubs over the years. They are currently working on various changes to the pub. Opening hours were restricted but the pub is now open from 11am to 11pm every day.
Brockenhurst
Keeping northbound, the Forest Park Hotel in Brockenhurst is under new ownership. The new owners are keen to invest in refurbishment and, in order to raise funds for the project they have applied for and been granted permission to construct three homes in the grounds of the hotel. Under this refurbishment the number of bedrooms will be reduced from 20 to 13, whilst the dining area will be enlarged.
Ashurst
Refurbishments were completed earlier in the summer at the New Forest Hotel in Ashurst. The bar, restaurant and garden of the Fuller's owned pub were all revamped ahead of the holiday period.
Cadnam
The White Hart in Cadnam is now part of the Brunning and Price pub group. Most of the company's pubs are in the north west of England and north Wales but they are gradually increasing their presence further south. It closed in September for extensive renovation work and is due to reopen at the end of October; a good range of cask ales is promised. Nearby, the Coach and Horses is under new management and has reopened also after refurbishment in the summer.
Milford-on-Sea
An application has been made to carry out alterations at the Beach House in Milford-on Sea. Changing the bar and reception area are among the numerous changes planned at this Hall and Woodhouse owned hotel. Also in Milford, the White Horse is under new ownership.
Earlier this year The Cave opened in Church Hill, Milford-on-Sea. It describes itself as an 'independent wine shop and bar.' It is run by Jon and Stacey Crouch, who offer bottled real ales in Sam's Bar, which is named after their young baby.
Easton
Staying with the horse theme but traversing the county, the Chestnut Horse at Easton won two awards at the Winchester Business awards. The village shop that is located in the grounds of the pub was a major factor in their success.
Alresford
Landlady of the Chestnut Horse, Karen Wells, has stepped down from Itchen Valley Council so that she has enough time to take on an additional pub, the Globe in Alresford.
The Cricketers in Jacklyns Lane has been under the new ownership of Emily and Alex Ivins since late last year. They have spent £60,000 since taking over to improve facilities for customers. Some potential customers may however have missed the pub as its new pub sign was stolen!
The Swan in West Street has gained three star ratings following a lengthy period of refurbishment that upgraded the bar, restaurant, kitchen and reception areas. Not far away in Pound Hill, licensees Malc Evans and Hannah Newman have left the Running Horse, but the good news for drinkers in Ringwood is that they have now taken over the Railway Hotel there.
Littleton
To the north west of Winchester, another Running Horse, at Littleton, is now part of the expanding Upham Ales chain. Others in Hampshire are the Thomas Lord in West Meon and the Navigator (formerly the Spinnaker) in Lower Swanwick.
Winchester
Another expanding local pub chain, Ideal Collection, was celebrating when one of its venues, No. 5 Bridge Street, was judged to be the best wine pub in the South East. We are pleased to report that it also offers locally brewed real ales. Also in Bridge Street, there are new licensees at the Rising Sun. It reopened in summer of 2012, having been closed for four years. It is now being run by Tracy Besant with her sons Daniel and Jamie.
With so many pubs facing regular changes of licensee we are pleased to recognise the achievement of Mike and Lynne Sinker who in July celebrated running the Bakers Arms, off the High Street, for 40 years. As well as pulling pints, the couple have been active members of the Licensed Victuallers' Association.
A new pub for Winchester could be built as part of the 2,000 home Barton Farm scheme. Planners have agreed that a 500 square metre pub can be included in the development.
Romsey
Two pubs on the outskirts of Romsey have new licensees after being closed for a period of months. Carol and Martin Rickman are the new tenants of the Hunters at Woodley. They also run the Sun Inn in the town and the Malthouse at Timsbury. The Duke's Head at Greatbridge has also reopened. Romsey born and bred Shaun Green is the new licensee and is joined in the venture by his partner Karen Hansford. Another edge of town pub, the Luzborough, also underwent a major refurbishment in the summer.
North Baddesley
Just along the road in North Baddesley, the Baddesley Arms is now the Ox Bar and Brasserie. This is the latest name change for a pub that has also been badged as the Steak and Stilton and the Knight's Cross. It is run by the group who also run venues such as Buddah Lounge in Southampton.
Netley
The Mill House in Netley is now part of the Fayre and Square chain, which also includes the Plough Inn, Bursledon and the Vine Inn at Ower.
Hamble
The future of the Harrier in Hamble looks to be in doubt. Owners Enterprise Inns are understood to be in negotiations with McCarthy and Stone to sell the pub for conversion into a retirement home. Locals have held meetings in a bid to save the pub and have collected 400 signatures on a petition.
Swanmore
In the far east of our area, planners have granted permission for the building of two flats and two houses to the rear of the Brickmakers' Arms in Swanmore.
Eastleigh
We mentioned in the last Pub News that the owner of JKS Wine Bar was to open a late night venue in the town, JKS Club Regal. The club did open in June but closed less than a month later. It is now open again under new ownership but is now called simply Club Regal.
Southampton
Another club that is due to change its name is the former Square Balloon, which closed after a period as Provenance. Its new name, under new management, is Myth. Changing its name to a less extreme extent following a £150,000 refurbishment is the Bedford Arms. This is a revival of one of the grade II listed pub's previous names, which also included Bedford's and the Bedford Hotel.
Also trading under a new name is Varsity in Portswood which is now Wild Lime Bar and Kitchen. Another pub with a younger than average client base, the Stile in Bassett, was given a £95,000 refurbishment during the student vacation. Lennon's in Bevois Valley also underwent a facelift during the summer.
Customers are still fighting to keep various pubs open in the city. The position looks unpromising at the Bittern as contracts have been exchanged between owners Punch Taverns and MacDonald's. The future of the Stoneham Arms in Bassett Green Road is unclear since it closed in August. However, meetings have been held with the owners Enterprise who have said that they are keen to keep it as a pub.
Work continues on the Sporting View at the Sports Centre but there is no indication of when it will be trading again.
Two pubs which closed years ago are at long last looking likely to come back into use soon, though unhappily not as pubs. Two and three bedroomed homes at what was previously the Blacksmith's in Shirley are now being advertised for sale and at the town end of the same road work has started at the Park Hotel, where permission has been granted for its conversion into flats.
We are pleased to finish with some encouraging news. While pubs close and businesses contract, the team that run the Platform Tavern are looking to expand. The plan is to move into the nearby Wool House, which was previously a maritime museum and is currently operating as a temporary arts space. The ground floor will house a 10 barrel brewery and brewery tap style bar with a restaurant/function/live music, area on the first floor. The Platform will continue to trade and its existing brewery will still be used for special brews and test runs.
Another potential new venue in the offing would be the first 'micropub' in our area. Anthony Nicholls hopes to open the Butcher's Hook at the Bitterne Triangle. Micropubs have sprung up all around the country over the last few years – see the article Micro Magic in this Hop Press.
---
---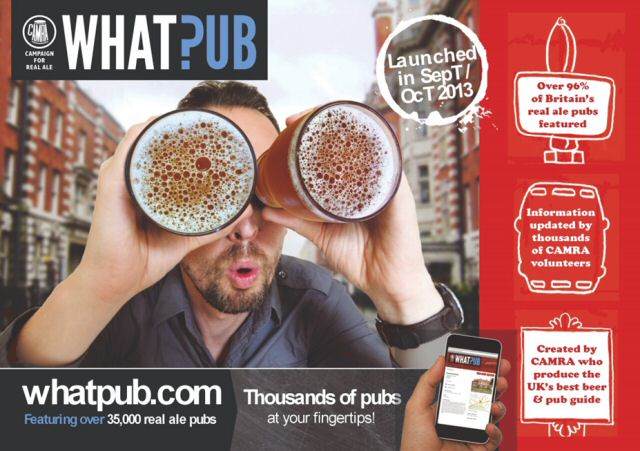 Any regular internet surfer will be well aware that there are numerous websites purporting to give information about pubs. The likes of 'Beer in the evening,' 'UK pub finder' and their ilk will be familiar – as will their manifest limitations.
So often, trying to find details of a specific pub using one of these will bring up just a generalised webpage, surrounded by unwanted advertisements and with little more than the pub name accompanied by requests for information or reviews.
With our 200 plus branches covering the entire nation and with over 150,000 members (dedicated pub users!) feeding in information, CAMRA has, collectively, an unparalleled amount of data on the UK's pub estate. It behoves us to use this information for the general good and to this end, at the end of September, CAMRA launched its own searchable database on the website: www.whatpub.com as a service to the general public. With much more detail than any of the previous rivals it also has the tremendous advantage that its currency is constantly updated as its data is drawn from the distributed databases of our many branches on a day-to-day basis.
The database is searchable in a variety of ways: by pub name (good if it is a one-off but not so useful if it is, say, a Red Lion or a King's Head!), by location (by name or full or part post code) and then by over twenty features and facilities such as 'locally brewed beers' or 'dog friendly.' Of course, being a CAMRA site, all the real ales are featured.
One especially important feature, almost always omitted on other websites, is that every pub entry has a date on which the details were last updated. A quite unusual search item, absent in all other sites, is the inclusion of a 'closed' term allowing users to undertake their own historical research.
---
---
Good Beer Guide 2014 Hop Press index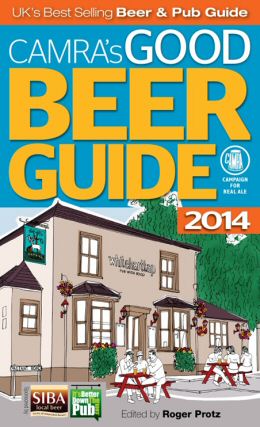 Published in mid-September, next year's national guide is now available in the shops or by post (see: www.camra.org.uk).
Britain now has an incredible 1147 breweries, an increase of 187 in the last year alone, these are comprehensively listed in the CAMRA Good Beer Guide 2014 . As CAMRA's flagship title, the Guide features over 4,500 urban and rural pubs, giving details of the real ales, food, opening hours, beer gardens, accommodation, transport links, disabled access and family facilities of each one plus a short description by the CAMRA surveyor. For Hampshire this year's edition features 119 pubs.
The Guide, compiled by CAMRA's 150,000 members, is completely independent, and there is no charge for entry. Updated and revised each year, it is guaranteed to be the most up to date publication to Britain's best real ale pubs.

---
---
A Walk for Drinkers – Bishops Waltham to Swanmore Hop Press index
Ray Massey
For some time I have been thinking about a pub walk in Swanmore . Despite the loss of the New Inn, the village still has three pubs, all well worth visiting. There is a very useful map of Swanmore's footpaths on the Hampshire Government website: www.hants.gov.uk/rh/walking/swanmore.pdf, but I was unable to get a copy from any of the local shops. When I came to check out the paths I found some of them lacking in interest, one very overgrown, and another had had all the signs removed. I was beginning to get worried, and then I thought of starting the walk from Bishops Waltham. Conveniently, the buses that serve Swanmore also serve Bishops Waltham. Moreover, the first part of the walk goes through an interesting geographical area. Please don't expect a walk through outstanding natural beauty, but I hope you find the mixture of fields, woods and village housing to be of interest. And there are the three pubs as well…
Get off the bus in Bishops Waltham square (St. Georges), and walk up the High Street (between the two banks). At the end turn right into Bank Street, and go uphill past white houses, with the Bunch of Grapes , just off on the left in St. Peter's Street. At the summit, the road curves left and narrows, then goes downhill, past the Bishops Waltham Tandoori. At the cross roads go straight on into Hoe Road towards Swanmore, and immediately turn right onto a shaded gravel footpath, and through a metal chicane.
At the end of the path, cross a road into Moors Local Nature Reserve. Go through the gate and bear left, keeping left of the power cables. Cross the field, going over a small railway sleeper bridge, and leave the field at a corner into woodland. Go straight on through a complex of gates, and along a good path with an uneven, overgrown area on the right; this is a series of springs where water draining through the chalk is forced to the surface when it meets the underlying clay. Soon go over a short curved wooden walkway. Keep in the woods with fields on the left, and go past a wildlife noticeboard. Go through a gate into an overgrown field, keeping to the left edge. Go through another gate and turn right by a wooden footpath sign at a footpath junction.
Turn left at a green sign, along an uneven, often-muddy fenced path in a belt of trees between fields. Go through a kissing gate and across a narrow field under power cables, then through another, circular metal, kissing gate into woodland. The path makes a long bend right past a footpath sign, and then past a pond on the right. Continue on this varying path, through several gates, until you cross a sleeper bridge to come to the inappropriately named Paradise Lane, where various tractors are usually parked.
Cross the lane diagonally left, and enter the woods on a narrow twisting path. Duck under a single barbed-wire strand by a stile, and continue through the woods. Soon there are fields on both sides, but with the path still in a belt of trees. Go along the left side of a meadow by a simple wooden fence, then through a gate onto an easy grassy path. This leads to a gravel track past a few houses onto a lane. Go across the lane, past a green footpath notice and immediately turn left through a gate into Marsh's Meadow.
Go half-right across the meadow towards a gate, then ease right again towards another gate near a brown container. Go through the kissing gate and turn left onto a gravel lane. Bend right immediately, then turn left by a red litter bin and follow a good path into the woods. Very soon turn right into Green's Wood, and follow a twisting gravel plank-edged path through the wood. I thought that the large depressions on the left were more springs, but I soon found out they were clay pits. After a sudden right turn the path runs between high garden fences, and past a useful map and notice, to exit onto Church Road in Swanmore. Now the name of the first pub makes sense. The Brickmaker's Arms is just a few yards away downhill. The Brickmaker's is a comfortable spacious modernized pub, serving modern food and sometimes unusual beers. When I last visited I had a very enjoyable Wakatu Single-hop beer by Marstons, previously there were Upham and Bowman beers. (www.thebrickmakers.co.uk 01489 890954)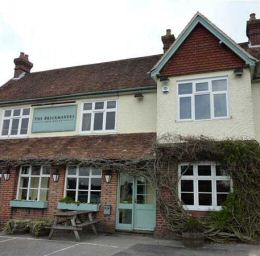 The Brickmakers
On leaving the pub turn right and go downhill past a collection of attractive houses, turn right towards Upper Swanmore up Hampton Hill. The houses on the right look very much as if they occupy the site of more old clay pits. As you climb the hill take time to glance into the woods on the right; the pits here are surprisingly deep. Soon there are open fields on both sides, whilst the road continues in an avenue of fine trees. After the field on the right ends there is Dolphin Cottage, and immediately after that turn right by a metal finger post along another fenced path. This ends at a stile into a long large field, turn right and aim for another stile in the bottom edge of the field. Cross this stile onto another path, which leads past a red building (Swanmore Pre School) and then past the Junior School. Just ahead is Swanmore's Parish Church, and to the right a convenient bus stop and the Brickmaker's Arms again!
However, turn left past the Junior School, and go along Church Road through Swanmore. Turn left into Vicarage Lane, another area of pleasant houses. When the fields start on the right, turn right along a grassy path between fences, to head for an enticing archway in the woodland ahead. The archway leads into a fine orchard, but with many confusing footpath signs. At the archway turn right and soon bend left to walk beneath the power cables to the edge of the field. Leave the orchard through a narrow gap in the hedge, down two steep steps, and go diagonally right to go down the very narrow Hill Grove Lane. At the T-junction with Cott Street turn right, and very soon you will reach the Hunters Inn. (www.huntersinn-swanmore.co.uk, 01489 877214).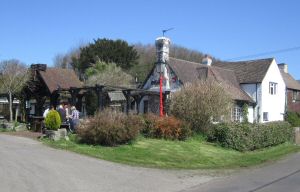 The Hunters Inn
The Hunters is a slightly old fashioned, large rambling pub with an extensive food menu. The beers on when visited, and most probably permanent, were Theakston Best Bitter at a very reasonable £2.60, plus Bowman Swift One and Wallops Wood direct from stillage.
To get to the third pub there are two choices. The simple short way is to cross the green in front of the Hunters to the cross roads. Then turn left down a somewhat busier road and in about 300 yards on the right is the Rising Sun (www.risingsunswanmore.co.uk, 01489 896663). The Rising Sun is a friendly pub with a restaurant; food is important here. On both visits the beer was very good: especially Itchen Valley Watercress Line and Suthwyk Palmerston's Folly (brewed by Oakleaf in Gosport).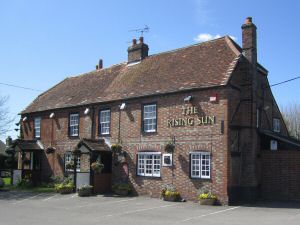 The Rising Sun
The longer way from the Hunters to the Rising Sun is to retrace your steps along Cott Street past the end of Hill Grove Lane. The road is quiet and shaded by trees. Do not be tempted by a footpath on the right around a field edge: although it will quickly get you to the Rising Sun, the path is uneven and overgrown. Continue down Cott Street to pass a remarkable and little known Tudor cottage on the right, apparently in excellent yet unrestored condition. Having seen this cottage you may be forgiven for turning back and heading back past the Hunters to go directly to the Rising Sun.
But, for those of you still with miles in your legs, continue along the shaded lane, with orchards on each side. With open fields on the left and the end of the orchards on the right, turn right along the tarmac then concrete drive of Holywell Estate. Bend left then right around a large green barn, onto a curving tarmac road, past a small sign that is the first indication that this is a public right of way. Just before a cattle grid turn right along a broad muddy woodland track.
However, if you have more time to spare it is worth taking a detour on the road over the cattle grid through the Holywell Estate. No expense has been spared tidying these woods, and the route is well but discreetly signed for walkers. So different from many estates where walkers are made to feel unwelcome by being routed around the grottiest parts. Here there are no grotty parts. After about a mile, on good roads, you will eventually reach the A32, it's up to you how far you want to detour.
The muddy woodland track amongst the oaks soon improves, and joins a tarmac drive from Holywell House, which continues arrow straight to a T-junction. Here turn right along Mislingford Road, arrow straight again. The road begins to curve at Hillpound, on the outskirts of Swanmore, and soon the Rising Sun can be seen above the hedge. Continue to the cross roads, turn right and there is the Rising Sun. To catch the bus afterwards, return to the cross roads to find the appropriate bus stop.
Buses: To Bishops Waltham: 7 from Southampton, 8 from Eastleigh, 17 from Petersfield and, 69 from Winchester to Fareham via Bishops Waltham and Swanmore.
Maps: Other than the local government map mentioned, the OS 1:25,000 map is Explorer 119 Meon Valley, Portsmouth.
Seasons: This is a good autumnal walk, there will be added colour in the trees, and later on improved views; and the paths will not have become too muddy.
Distances: To The Brickmaker's Arms is about 2 miles, on to the Hunters Inn about 1¾ miles, on to the Rising Sun between ¼ and 2¼ miles depending on detouring, or even longer if you explore Holywell.
---
---
In 2009 we sadly reported that the Forest Heath pub at Sway had closed, to be converted into flats plus a café on the ground floor but which is only allowed to open between 9am and 5pm Monday to Saturday. There were many objectors who wanted the pub to stay in community use. New Forest resident and CAMRA member Peter Simpson was thus shocked recently to see a headline in the Lymington Times reading: "Run-down Sway pub restored to former glory in homes project"
Below is the letter from Peter that was published in the following week's paper.
Dear Sir,
I do not see that the Forest Heath has been returned to its former glory when it has had its heart and soul removed and its intended role as the centrepiece of community life as a public house extinguished.
I do accept that due praise should be given to the Stevensons for their time and effort taken on the architectural detail but I am sure their labours will be substantially remunerated upon eventual disposal of the 'less' affordable apartments.
The Victorians often pinned rare butterflies and severed the heads of animals hunted to near extinction, those heads being displayed as trophies to boast the prowess of the hunter. The taxidermist can only show a lifeless museum display of an animal and as in this case not its true, vibrant glory. The re-positioning of the pub sign to me displays either a sick sense of humour of the hunter developer gloating over his opponents or ignorance that such an advertisement is to invite all to sample ale and victuals in a convivial community environment.
A café with no hot food and closed at weekends, as much use as a pub with no beer, will be a double insult to visitors arriving at Sway station who will be fooled by a newly painted pub sign into thinking the pub has been restored and placed into the hands of responsible owners and rescued from a reprehensible pubco.
Nationally, as many as 26 pubs a week are now being lost to predator developers and supermarket chains striving for global domination. This is our national heritage being destroyed. The real villains are the large, greedy, debt ridden pubcos. New research by CGA Strategy shows a shocking 60% of licensees of large pubcos earn less than £10,000 per year, well below the National Minimum Wage for the hours expended. Extortionate, unfair rents and tied beer prices plus barring of locally produced ales from small producers mean high prices to customers and poor choice followed by business failure. Failed pubs are then easily sold off with no planning protection to supermarkets or to developers and lost forever.
The "Fair Deal for Your Local" campaign is trying to redress the balance in favour of licensees (www.fairdealforyourlocal.com). Getting pubs listed as Assets of Community Value (www.camra.org.uk/listyourlocal) is another new initiative which could well have saved the Forest Heath Hotel and facilitated its restoration to former glory for the benefit of all.
Yours faithfully, Peter Simpson
Five apartments have been advertised for sale at between £220,000 and £450,000. Accompanied not by a picture of the premises as they now look but by a picture of the hotel as it was many decades ago!
---
---
Cask Ale Report No. 7 Hop Press index
Pat O'Neill
The end of September saw the publication of the seventh annual Cask Ale Report, compiled by beer writer Pete Brown from sources throughout the brewing industry. As in previous editions the report is a mine of marketing information, essential reading for any publican or brewer. It can be downloaded as a 38 page pdf, and along with all the previous editions, and can be found at: www.caskreport.co.uk
Its key conclusion is that cask beer (real ale) has been consistently outperforming keg beer as a sales leader and is without doubt a major factor, if not the major factor, in deciding the viability of any pub in the present harsh economic climate. Cask beer now accounts for 55% of the draught ale market and continues to rise steadily having left keg beers behind in 2010. Although overall pub trade continued its fall throughout 2012–13, with sales down a dramatic 8%, real ales held almost steady, declining by a mere 1%.
A significant finding is that, notwithstanding the continuing attrition of pub closures, pubs that major on real ale sales are much less at risk than those that do not – cask ale keeps pubs open. It is not difficult to interpret this, real ale is the only form of alcohol that is not easy to drink at home, and acquiring the taste for it will make you a pub goer!
Much of the report is given over to an analysis of the demographics of 'the cask ale drinker.' It finds that although, in general, he is still a male and no longer in his twenties, the last few years have seen increasing interest among under twenty-fives and among women. Almost two-thirds of a survey of 360 pubs reported a significant increase in cask ale requests from these two important segments of the pub trade. Another, perhaps less obvious, demographic trend is that regular cask ale drinkers tend to be more affluent – 68% are in social grades A, B or C1 – and 60% earn more than the national average wage. Given that real ale is frequently slightly cheaper than lagers and ciders it cannot be price influencing their choice. The survey provides the answer – overwhelmingly it is flavour (no surprise there) but this is followed strongly by 'curiosity,' the search for new and interesting tastes. This newly prominent reason of course is strongly linked in the report to the enormous growth of new breweries and their output of ever more distinctive (even sometimes, little short of bizarre) brews.
One, perhaps astonishing, statistic high-lighted in the report's summary is that nationally, some 10,000 cask beer pubs have each held some form of beer festival in the past year; a facet of popular culture developed entirely from CAMRA's early efforts at perfecting the genre.
Much of the report probes into trying to pin down the optimum offering a cask ale house should have – the range of beers, not only in style and strength, but especially the frequency and rationale of changes. There has been a notable change in the past few years, mostly since 2010 in the number of cask beer pubs with a large number of ales on at one time, this can be seen in the table here:
No. of real ales offered
Year
>4
4
1-3
2008
2530
2898
54646
2009
4014
3983
53891
2010
6544
5457
54535
2011
9643
5976
51052
2012
16389
6730
45754
The extraordinary six-fold growth in the number of pubs offering a wide range of four or more ales, up from 2½ thousand in 2008 to 16 thousand now cannot all be put down to the success of Tim Martin's Wetherspoon empire! The average real ale pub now has 3.8 beers on offer and this is giving rise, in some instances, to examples of over-stocking with the inevitable complaints of poor condition beer. The Cask Report emphasises the dangers of such trends repeating, in part, a history that marred cask beer for a past generation of drinkers.
Among the styles of cask beer on offer, the modern Golden Ales (modelled on the first ever, our local Summer Lightning) are the fastest growers, appearing in 6000 new pubs this year alone. Although 'antique' beers such as Porter, extinct for decades, are now also regularly on offer in at least 5% of cask beer pubs.
The top ten big brands from the national and regional brewers have held an almost constant 30% of the total trade for the last five years but there are now small signs that this market grip is just starting to slip. Most of these major firms have increased their production of seasonal and specialised brews and the sales of these are buoyant The cask beer drinker does not help the licensee much in deciding what to stock in this area – 25% 'actively seek out' new beers but 20% 'stick with the brands they know.'
One view they do express strongly is their support for localism in beer supply, beers coming from a local brewery are looked for by two-thirds of cask drinkers although, equally, there is a strong element also 'liking to try beers from other parts of the country.' These conflicting views certainly pose questions for the licensee and may well explain the recent sudden rise in the number of brews on offer in so many pubs.
An area where the punter and the landlord are at odds is specifically highlighted: How long should a 'guest ale' be on offer? 50% of pub licensees elect for 'a week or less' whilst 42% of their drinkers want 'a month or more.' Not an easy circle to square! One important help in this dilemma is giving the customer as much information as possible – chalk boards (and now, increasingly, social media) saying what is coming on and, as far as possible but vital, when, are universally appreciated.
A new word appears that has not featured in previous reports: craft . An entire page is devoted to this American import but without coming to a firm conclusions. In the US craft brewing and craft beer are precise terms based on the size of the brewery and ingredients and production of the beer. Federal and state regulations generally do not support our concept of cask conditioned beer served from containers open to the atmosphere, so craft beer has something of the cachet that real ale has here. However, in Britain we still seem enthralled by all things American and brewers here are adopting this (in our context) meaningless term in droves. In the more innocent cases they just tag it on to add a supposed element of 'modernity' but in some cases it is added to a keg beer in a deliberate attempt to confuse drinkers into thinking the beer may be a real ale. Although only 47% of cask ale drinkers have so far heard the word used, more will in the future: be warned and dismiss the marketing hype.
The annual Cask Ale Report has now become a looked for part of the autumnal scene in the pub industry; licensees need to study it but ordinary beer drinkers will also gain much insight from its pages.
---
---
David Etheridge
A revolution has started in the licensed trade, a new type of pub has started to appear: the Micropub. These are very small pubs usually in a leased shop unit, they can normally hold between twenty and thirty people and sell two to three real ales/ciders and a range of bottled beers. The concept is very much 'to keep it simple,' so most have no gaming machines/pool tables (which would take up valuable customer space), no music, no TV or video and the food choice is between a packet of crisps or peanuts. The idea of the concept is that the 'pub' can be run entirely by one or two people.
It is accepted that the first Micropub was the Butcher's Arms at Herne, in Kent which was opened in 2005 in an off licence which had originally been a butcher's shop. Things got off to a slow start with the next one, the Rat Race Alehouse in Hartlepool opening in 2009, then three more were reported as opening during 2010 but it was not until 2012 that things really started to take off with a number of Micropubs opening mainly in Kent and The Midlands.
I believe the slow start was due to difficulty in persuading the licensing authorities to issue licences to a small independent public house, although changes in the 2003 licensing act which came into effect in 2005 made this easier. Also existing retailers and local residents can put up strong campaigns against these new outlets, although most operators of Micropubs seem to wish to work with their local communities.
In June 2012 the Micropub Association was set up and by the end of the year over forty were up and running. Their website at: www.micropubassociation.co.uk lists them all and shows many more opening in 2013 especially again in Kent, London and The Midlands.
So what are the advantages of a Micropub? If you wanted to take on an existing public house you could buy one if you can manage to find a single pub up for sale, and then expect to spend between £250,000 and £1,000,000 to buy a pub and get it up and running, also you would have to beat the pub companies to it if it is in a good position. Or you could take on a lease from a pub company which would require buying a lease lasting up to twenty years from the company or the remains of one from an existing lessee, this will cost between a few thousand pounds and fifty thousand pounds. You would also have to pay rent to the pub company and buy your beer from where they say at their price, be responsible for the building and have a long list of rules to follow (some leases apparently include a clause on opening hours 11–11 seven days a week – 84 hours a week!) hardly giving you the freedom to run the business the way you want. Also, even if you sell the lease on and a future holder goes bankrupt you can still be responsible for some of the losses.
With a Micropub you can lease the shop unit which is possible for periods from six months with agreements on future renewal, the structure of the building is usually the responsibility of the owner (you would need to agree any changes you wanted to make to the building), buy your beer direct from local brewers or suppliers and run the business in any way that suits you. Many Micropubs open restricted hours with at least one day a week closed so one or two people can run their own pub working reasonable hours without the need to find reliable staff. If the business does not work out you can shut it down or move your equipment (movable cool rooms are commonly used) to an alternative site with better prospects.
Critics of Micropubs say they are too small and you are unable to make a living from them, but I have sat in many existing pubs with just a handful of customers (or just me!) and I can tell you there is no atmosphere in these large empty barns. There are reports of Micropubs making an annual profit of £20,000 to £25,000 (an average wage) while a recent report said the average income of a pub lease holder was £14,000 (although some earn a lot more and some a lot less!). They also say these inexperienced people running pubs will lead to an increase in binge drinking, but this has not been the case with existing Micropubs as the type of pub they are attract responsible customers and the owner is able to monitor customers as they have served them and can easily monitor the whole bar.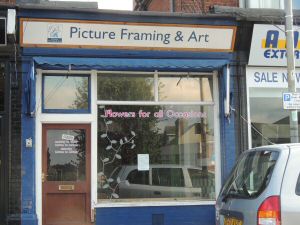 The premises due to become The Butcher's Hook
The first Micropub in the South Hampshire Branch area is planned for Bitterne Park in Southampton, this is due to be called the Butcher's Hook and will hopefully open late 2013 or early 2014. It will be located in the former Tiger Lily florists shop at Bitterne Triangle (once a butchers, hence the pub name) and will be run by two local men, Anthony Nicholls and Dan Richardson. It will have draught beer from local brewers gravity fed straight from the cask, along with a range of bottled beers from the UK, US and Belgium together with the owners' favourite ciders and wines and topped off with traditional soft drinks. We hope to bring a full review of the Butchers Hook in the next issue of Hop Press.
Micropubs could take pub ownership back almost two centuries to the passing of the 1830 Beerhouse Act which created tens of thousands of new pubs in people's front rooms: these were true free houses, in fact many brewed their own beer. Over the years these were replaced by larger pubs run by local brewers which, merging, built larger breweries with bigger tied estates to become regional, national and then international pub groups. Catastrophically, under the '1989 Beer Orders,' these later separated their pubs and breweries forming the current pub groups. There will still be larger pubs, the better locals, large food-led pubs, country inns and town centre disco pubs but hopefully the Micropub will bring back the true local to areas that have lost them. Whether the more successful Micropubs expand into larger units in the future, bringing about the concept of the 'Midipub,' is something to ponder. Cheers.
---
---
Competition Crossword Hop Press index
QUETZALCOATL (printable pdf version here 30KB download)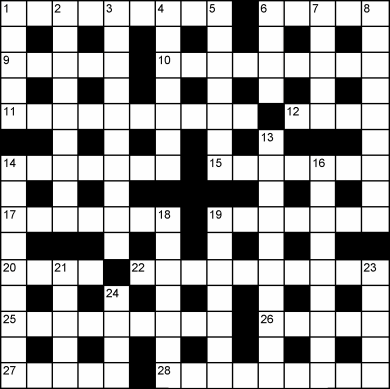 Eight clues are of a kind, so lack definitions.
Across
1.
Work an age, time I took on the job (9)
6.
Let us petition urban society's leaders? (5)
9.
Dig in missing cold weather's start (5)
10.
My singers blend, each enhancing the other (9)
11.
Cannon volley ordered, erasing NE in silence (10)
12.
Grim picture of battle shows warriors (4)
14.
Blots out Rhode Island city (7)
15.
Diffuse pressure – one run to go! (7)
17.
Common speech arises in afterthought (7)
19.
Old whale is a light weight matter (7)
20.
Creep a little way (4)
22.
Power-grip bastion? (10)
25.
Moon's core 'quake? (9)
26.
Centre of learning post Beeching cut? (5)
27.
Loyal bondsman in Wallonia (5)
28.
Stop, get down and push to restart the game (9)

Down
1.
Duck bible class – no going back (5)
2.
Putting forward former model finally (9)
3.
Broadcast emcee? She once flew to help (3,7)
4.
Fit a good seating position? (7)
5.
Error free? Gripping stuff! (7)
6.
Lay great odds (4)
7.
Soft edge takes one second to bend a beam (5)
8.
I miss boys at play, getting on together (9)
13.
Flighty autumn girl (10)
14.
Ritually ducking exercise is, within degrees, still training (9)
16.
A pub hero, I made a bloomer (9)
18.
Theatrics as crack troops embrace fatigue (7)
19.
One discontented before August 12th? (7)
21.
Caught an old English paddle boat(5)
23.
German libertine circumnavigator (5)
24.
An Israeli area? (4)
Prizes to the first two correct entries drawn. Closing date: 31st December 2013.
Send to:
The Editor, Hop Press, 1 Surbiton Road, Eastleigh, Hants. SO50 4HY
---
Issue 74 (May 2013) Solution & Winners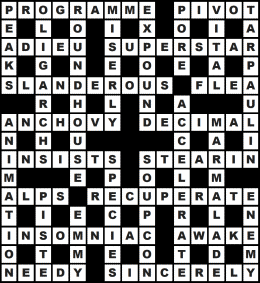 Possibly our best ever entry, with thirty-three competitors responding. Two unfortunately had to be rejected, each having ingeniously found one or more solutions that fitted the grid but not their clues!
Winners:
D. M. Ellison, Bitterne, Southampton
Dave Hancock, N. Baddesley, Southampton

The other correct solutions were from:
Johnny Bowman
Jocelyn Britcher
David Chessman
Nigel Cook
Rod Cross
Trevor Crowther
Linda Derrick
Philip Doughty
Martin Gardner
Roy Garraway
David Grant
John Green
Stephen Harvey
Mike Hobbs
Norman Hurl
Kevin Hutt
Keith Jones
B E Judd
A Leonard
Gary Morse
Neil Mort
Tim Parkinson
Nigel Parsons
Jeff Phillips
Ron Poole
Harvey Saunders
Trevor Smith
Howard Sprenger
J Williamson
---
---
Hop Press Issue number 75. October 2013
Editor: Pat O'Neill
1 Surbiton Road
Eastleigh
Hants.
SO50 4HY
023 8064 2246
hop-press@shantscamra.org.uk
© CAMRA Ltd. 2013