Hop Press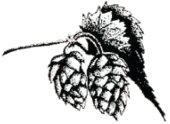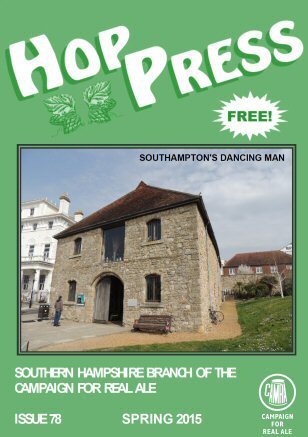 Issue 78 – Spring 2015
Go to Previous Hop Press Browse for another Hop Press
Go to Next Hop Press
Contents
With the arrival of Easter and the outbreak of election fever (or amongst many, more of an election catatonic coma…) it is easy for the budget to slip away into distant history.
But the one penny per pint duty reduction for beer, the third year running for this level of cut, although very welcome still leaves a normal pint of bitter taxed at 42p (before the landlord even gets it into the pub cellar). A comparison across the EU is instructive; in 23 of the 28 states this figure is less than 20p, Slovenia is about 26p and then there is a leap to over 40p for the last four states: Finland, Ireland, Sweden and ourselves.
If inflation is taken into account the duty on beer in real money terms is now something approximating to what it was about a decade ago – coincidentally (or perhaps not) virtually the same time as the start of the devastating wave of pub closures that we are still witnessing. Whatever complexion of government emerges from the coming contest quite a few more 'penny a year' cuts will be needed to bring us into the EU main stream; and as for Germany's tax which is around 5p per pint – one can but dream!

March witnessed another highly successful Winchester Guildhall Beer and Cider Festival as more than 3000 people enjoyed some 11,000 pints of splendid beer and 1,300 pints of cider and perry. The festival's nominated charity, Hampshire Search and Rescue, raised a total of £2,200 and Age UK who organised the cloakroom service raised a further £700. To mark the cut in excise duty the Festival donated a further penny per pint to bring the grand total up to above £3,000. Well done everyone.
Once again, as in the previous four years since the festival was reinstated at the Guildhall a local Hampshire brewery took the 'Beer of the Festival' accolade. The Vibrant Forest Brewery, from Bowling Green near Lymington won with its remarkable RadicAle Oat and Coffee Stout. The vote for 'Cider of the Festival' also favoured a local Hampshire cider maker, going to 146 Heritage Cider from West End in Southampton.
The Winchester Festival will return again on March 18 and 19 in 2016 but before then we are now preparing for our nineteenth Southampton Guildhall Festival on June 4, 5 and 6, tickets are already on sale at our usual outlets – the Guide Dog, the Waterloo, Bitter Virtue off-licence and the O2Guildhall box office – see you there.

It is time that Hop Press said something about Craft Beer. Two simple little words, just nine letters, comfortingly put together as a phrase of seeming innocent appeal – a rustic, homely, hand-made product of William Morris like characters in smocks… Not quite! In reality this imported, transatlantic neologism represents a more insidious, malignant threat to traditional British cask ale than any mass produced keg beer could ever have been.
What does it mean? It was coined in America by the Brewers Association, a trade body representing the 'smaller' US producers – i.e. excluding the likes of multinationals such as Coors and Anheuser-Busch – and it was given a precise definition, around just three concepts. A craft brewer was specified as a beer producer with an annual barrelage of less than six million (!) who is not more than 25% owned by any larger entity (i.e. not a subsidiary of a bigger enterprise) and whose production is more than 50% malt beer. That is all the definition says, it is only related to the structure of the business and not in any respect to the merits, or otherwise, of the products.
In the US the concept of cask-conditioned beer, although not entirely unknown, is almost so, and so the products of these 'craft brewers' are almost in every case varieties of keg beer. In general they tend from the quite strong to the very strong, are often highly hopped, frequently unfiltered and even in some cases still retain some yeast; but they are, nevertheless, still just keg beers.
Now the phrase has appeared here and it has been seized upon by our brewers' marketing departments as their best hope of regaining what they assume to be their rightful position – that of telling pub-users what to drink rather than the reverse. The wealth of stories being propagated by these marketeers would put the brothers Grimm to shame; and with the sole intention of conflating the ideas of 'craft beer' and real ale. So successful has this campaign of confusion been that many licensees seem unable to distinguish the differences, cheerfully assuring customers that the keg products are the next new development of cask-conditioned beer.
The phenomenon is heavily London-based at present, not yet very obvious in Hampshire, but beware, it is on its way. Beware of very expensive, strong, weirdly named (a bramble infused saison, a black Belgian rye pale ale… etc.) concoctions appearing on a bar near you, they will be the storm troops of a new invasion force more numerous than the Red Barrel army.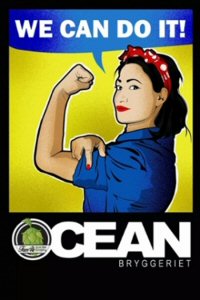 Next we repeat a nice little story, just in case you missed it in the national press, from soon after New Year. It is a report from Sweden (not the most misogynist of countries) of the very successful thrust of feminism into the brewing industry.
Fed up with constantly being offered bland, sweet fruit beers as 'suitable for girls' a number of Swedish women's rights campaigners, led by Elin Carlsson a worker at the Volvo factory, have formed FemAle as a direct action group to take on Scandinavia's brewing industry.
Success came quickly as the Ocean microbrewery cooperated to brew We can do it a 4.6% pale ale with bags of Galaxy and Cascade hops – the hoppiest beer Ocean makes – and promptly sold the whole 300 gallon batch in a weekend! More power to your elbows ladies…
---
---
Rob Whatley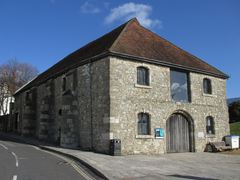 Dancing Man, Southampton

Southampton : City Centre
With so many pubs closing we are delighted to start this edition of Pub News with the opening of a brand new venture and the reopening of a popular old venue. After many delays the Dancing Man opened to the public on 27th February. It is run by the same team who have made such a success of the nearby Platform Tavern , which continues to trade as before.
The Wool House building now contains a new, much bigger brewery, a restaurant and an extensive bar area. The launch certainly appears to have been very successful. Despite moving from a one barrel brewery in the Platform Tavern to a new six barrel plant they are still struggling to keep up with demand. When the brewery was installed space was left for a third fermenting vessel if required. It is already on order. The history of the building is not being forgotten. The pub has joined up with the newly formed 'See Southampton' (www.seesouthampton.co.uk) to introduce a guided walk of the city's 'hidden history,' including visits to some of the many vaults, and of course finishing at the Dancing Man.
Continuing east along Platform Road you will get to Canute Road where the Frog & Frigate reopened on 5th March after being closed for six years. In charge are Derek and Lorraine Gardener, who have kept the layout of the pub very much as it was before but undertook an extensive repainting programme before the opening. Derek previously ran the pub between 1993 and 2003 and regularly entertained customers with his musical skills during that time.
Nearby in Terminus Terrace, Antico Restaurant Bar Grill was re-launched as Captains' Place last October following a refurbishment. Now the venue, which older readers may remember as Parkers Hotel, is the Flying Dutchman boutique hotel, restaurant and sports bar following a £150,000 refurbishment. Owner Martin Rahman lived in Amsterdam for 20 years. It features both Dutch cuisine and beers.
A licensing application for a new outlet has been submitted by London brewers Fullers. This is for a bar, the Stable, in the new arts complex that is currently under construction opposite Guildhall Square.
Staying with the arts theme, the nearby Cellar in West Marlands Road is now the Stage Door. It has a 100 seat cabaret theatre, a restaurant and bar. Early events listed included comedy, theatre and cabaret.
Around the other side of the block, what was Provenance and then Myth is now Switch nightclub. Continuing toward the Bargate, Yates's has undergone a £380,000 refurbishment and now features five handpumps. The former Que Pasa is now Ebb & Flow , one of a number of similarly named establishments owned by Marstons.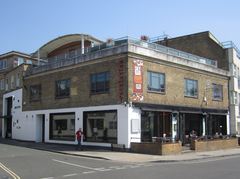 Revolution Bar, Southampton
Not far away in Bedford Place, the owners of Revolution Bar have won permission to extend the hours of use of its roof terrace to 11pm, seven days a week. As we predicted in the last Hop Press the city's new late night levy is leading to a number of applications for licence changes. Southampton's four Wetherspoon pubs all requested changes to their licence that stated that they will not serve alcohol during any late levy period that the council introduces, cleverly avoiding the need to make subsequent changes if the levy hours change in the future. A different approach has been taken by the 1865 music venue in Brunswick Square, the former Southampton Dockers Social Club. Owner Paul Hooper requested an extension to the licensing hours so that the venue could have the option to open later and earn more income to cover the levy charge. Although an extension was granted, conditions such as not allowing bands to load after midnight mean that an appeal is likely.

Southampton: Bitterne Park
A more successful licence variation application was made for the Butcher's Hook. Customers can now use a small outside drinking area in front of the pub up until 10.45pm. The nearby Bitterne Park Hotel has undergone a substantial refurbishment including internal alterations and new signage. Among the changes included in the £180,000 revamp, the former pool room became a breakfast room and the back lounge is now the new pool room.

Southampton : Bitterne
The enquiry into McDonald's plans to replace the Bittern pub with a restaurant opened at the Civic Centre at the end of January. It was subsequently adjourned and was due to reopen on 9 April.

Southampton : Northam
The Waterfront Bar at Shamrock Quay underwent a £130,000 refurbishment at the end of last year after being taken over by new owners Adestra Pub Company.

Southampton : Shirley
Also receiving a major refit was the Windsor Castle in Shirley. The layout remains much as before but £90,000 was spent on structural repairs, including new toilets and new décor.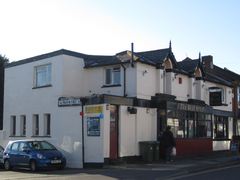 Bent Brief, Southampton
Southampton: Bevois Valley
The Bent Brief in Lodge Road closed at the end of February after licensees Andy Wade and Maureen Evans decided against renewing their lease with owners Punch Taverns. The future of the pub, which was well known as a music venue, is unknown at the time of writing.

Southampton : Highfield
Having become the Grazing Goat in early 2014, the former Highfield is now just The Goat. Planning permission has been obtained to extend and convert a garage at the pub into a burger and drinks bar.

Setley
There are new owners at the Filly Inn. Professional musicians Ruth Cohen and Jim O'Malley, who are both from Scotland, will be entertaining customers with folk music and jazz as well as running the pub. They have made some alterations to the décor of the pub and are working on a vegetable garden to grow some of their own produce.

Brockenhurst
We mentioned in the last edition of Hop Press that permission had been sought to erect a marquee in the grounds of the Foresters Arms. Permission has now been granted for this marquee to be used during the summer months for a maximum of 150 days a year.

Lyndhurst
A £3m refurbishment of the Crown Hotel has been completed. The three year programme included the creation of 12 new bedrooms, new kitchens and garden landscaping.
Not such good news for the Lyndhurst Park Hotel , which is now closed after the owners claimed it had been running at a loss. It has been sold and it is expected that the site will be redeveloped and include some holiday accommodation.
A new American restaurant and bar has opened in the High Street. Starsky's was set up by Gillian and Justin Bowman and their sons Luke and Aaron Taylor.

Ashurst
An application has been submitted to create 10 hotel rooms at the New Forest Hotel , Ashurst. Despite the name, the Fuller's pub does not currently offer accommodation.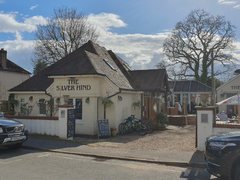 Silver Hind,Sway
Sway
The kitchen of the Silver Hind was destroyed by fire last November but fortunately the restaurant was able to reopen four weeks later, in time for Christmas.

Ashley
The residents of Ashley are now without a pub. The Oak and Yaffle closed three years ago and permission has now been granted for seven new homes to be built on the site, five detached and two semi-detached. Now the Ashley closed in March and is likely to be converted into a convenience store, having been sold by Admiral Taverns. The most recent licensee, Craig Gilpin, stated that he would have not have taken up a new lease for the pub, had it remained open.

Eling
Also closed is the Village Bells in Eling. Permission had already been granted last year to convert the pub to use as a residential dwelling. Landlady Teresa Ashley had run the pub for the last four years. Fortunately, the directly opposite King Rufus remains open.

Holbury
The Bridge Tavern at Ipers Bridge has been closed since last year and an application has been submitted to convert it to a dwelling which will include various extensions to the current building and the demolition of a single storey extension.

Braishfield
Housing is also on the agenda for the greatly missed Newport Inn , which closed in 2013. An application has been made to convert the pub into a private house and to build two other dwellings on adjacent land.

Romsey
Having decided not to reopen the Newport Inn, owners Fullers have taken over the Cromwell Arms , which was previously owned by independent company Delicious Dining.

Timsbury
We mentioned in the last Pub News that Malthouse licensee Carol Rickman had moved to the newly reopened Phoenix in Romsey. The new manager is Demi Saveall and the pub, which is part of the Family Pub Co chain, has undergone extensive refurbishment both inside and out but has retained its well-known carvery.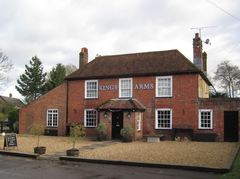 Kings Arms, Lockerley
Lockerley
A little to the east, there is good news in Lockerley where the Kings Arms has reopened. Darren Shorley and James Munday have taken on the lease of the Punch Taverns pub.

Bishop's Sutton
Moving to the north eastern boundaries of our area, plans have been submitted for substantial alterations to the Ship Inn. They include converting garages into a diner, stables into a kitchen and a new entrance. Additional parking spaces and illuminated signage has also been requested.

Alresford
The publican of the Alresford Cricketers in Jacklyns Lane has agreed to help the town council monitor flooding problems at the junction with Tichborne Down. We wonder what impact the addition of 10 new dwellings in part of the pub's car park will have on the situation if the recently submitted planning application is approved.

Winchester
Travellers exiting the city's railway station in recent months will have noticed that the Albion had been closed. The good news is that Paul Tickner and Jo Bartlett, who own the Flowerpots in Cheriton and the Wheatsheaf Inn in Shedfield, purchased the freehold of the pub. More work than expected was required on the premises but it reopened at the end of March, just in time for Easter.
The nearby Mucky Duck (one-time White Swan) was granted permission for a garden bar despite objections from nearby residents.
In Stockbridge Road, Jo Hoggart took over the running of the Roebuck in January and held a re-launch party at the end of February revealing new food and wine menus as she makes incremental changes to get the pub how she wants it.
There was also a re-launch at the Rising Sun in March, which included a beer festival. The feedback from the beer festival will help to determine which beers will be sold at the pub in the future. The pub, which is run by Rob Plunton, the former licensee of the now closed Marston's Ship Inn, Wales Street, has undergone a substantial refurbishment in recent weeks.
Right in the centre of the city, Alfie's has undergone a complete transformation over the last few months. In addition to a complete refurbishment both inside and out the pub also now offers a constantly changing range of five beers from local brewers.
We just missed the re-launch of Bar 3 One on 18 October in the last Hop Press, but we needn't have worried about this omission. It reopened as The Bar in the Square but was closed again just a month later. Now an application has been made by The Stable Bar and Restaurant Ltd to reopen it as a pizza restaurant. The company already has restaurants in Bristol, Bath and a number of south coast towns.

Hamble
The Harrier has now been demolished in preparation for the construction of retirement flats on the site.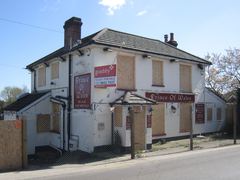 Prince of Wales, Shirrell Heath
Shirrell Heath
Having been closed since 2012, the future of the Prince of Wales now seems to have been decided. Permission has been granted for a change of use from public house to a single dwelling house with ancillary landscaping and parking.

Lower Upham
Finally we wish a happy retirement to Tony Senger and his partner Joan Mort. Tony took over the running of the Woodman in 1967 from his parents after his father was killed in a car accident and his mother was seriously injured. The pub featured in CAMRA's Good Beer Guide for many years.
Meanwhile, in Upham proper the Upham Brewery is still seeking a new home. Forced with having to move out of its present leased farm premises they had identified a green-field site, within the South Downs National Park, but this aroused such opposition that withdrawal was the prudent step. They very much want to stay associated with Upham so here's hoping the local powers-that-be can come up with an acceptable location.
---
---
What's that all about then? Hop Press index


With my beer drinking diamond jubilee now well passed, I can safely say I've seen a few changes in the general pub scene as the decades pass. Yet in just the past couple of months, in two different pubs, I've seen what may be the birth of something that could constitute a new fashionable trend.

Both pubs had a considerable array of six or seven handpumps and carefully placed in front of each was a sampling glass, full of the beer concerned. Clearly carefully placed as not to be touched but merely viewed; I can only assume they reflect drinkers' growing (and somewhat bizarre) obsession with a beer's colour rather than its taste? This meshes with a conversation I hear more and more often at the bar, which goes: new customer: "which is the lightest of your beers?" The barman then starts to list the abv strengths but is rebuffed with: "no, no, the lightest in colour…" How can one fathom the mind-set behind this?

Mulling over this puzzle led me to a singular thought – when did I see the first pump clip? Pub goers in the 1950s knew nothing of them; with virtually every pub selling hand pulled mild, perhaps two bitters plus possibly an old ale, none ever labelled in any way – and no one considered this in the least bit odd! But my questioning thought was not answered, they seem to have just arrived and then became universal, without notice. Perhaps, by the 2060s, the makers of handpumps (and I really hope there will still be makers of handpumps) will be automatically including a fitment for the 'colour sample glass' as now found in every pub…

Equally, in 1953, watching the Coronation on the new, never before seen, miracle of television, in a Birmingham pub it could have no more crossed my mind to ask to taste the Mitchells and Butlers mild ale than to have vaulted the bar and helped myself. Yet the entirely sensible idea of offering tasting sample glasses is now (almost) generally accepted by licensees.

Another change that many readers will perhaps be less aware of is the matter of beer strength. When CAMRA started, in 1971, astoundingly, the strength of the beers you bought over the bar (without even the advantage of tasting a sample) was a secret! Only the brewers knew how much alcohol their customers were consuming and they were extremely loath to give up this information. A major, successful, campaign in CAMRA's early days was to get these figures. The third annual Good Beer Guide (1976), the first to try to list beer strengths, specifically identifies the minority of brewers providing any information against the reticent majority where we had to get them by conducting our own laboratory tests of beer samples.

Similar, almost Masonic, secrecy attached to all aspects of the breweries' operations – most would not even supply a list of the pubs selling their beers to anyone outside of 'The Trade' (Why? I can't imagine any coherent reason). In the days of our first 1970s beer festivals requests to buy beer were met with complete incomprehension, incredulity and refusal. The same applied to asking about brewing ingredients, hop and malt varieties being used were often, if ever, only divulged in confiding whispers!

Perhaps the biggest change we've really seen over the past half-century of pub-going is that it has acquired ordinariness and lost all mystique – no one now needs an apprenticeship in buying a pint.


---
---
Plus ça change… a personal view of Julian Long Hop Press index

I joined CAMRA in 1972, only eighteen months after its inception; so what has changed over the intervening years? More importantly, what has not changed? To start with why did I join CAMRA? When I first starting drinking one approached the bar and adopted a deeper (thus, hopefully, older) voice to ask for the available nationally advertised brand to try and look like one knew what one was doing: "a pint of Red Barrel please." If I recall, there was little difference in taste (or lack of it) between any of the nationally promoted keg beers. I did occasionally join my father in a bar near his office in Bournemouth and drink the old cask Badger Bitter from Hall and Woodhouse, which was, with the benefit of hindsight, wonderfully hopped, but which to my inexperienced taste buds was almost disgustingly too bitter. (It is great pity that today's Hall and Woodhouse products seem not as bitter.)
My 'road to Damascus' moment came one night in the 1970s. I was a student so funds were tight and a good friend who was in work and owned a car drove us to London one Saturday to attend a party that we had been vaguely invited to. Looking for the address we drove into Wimbledon and called at the Alexandra (Young's) to ask for directions, having a drink of course while we were there. We ordered Young's Bitter, which I at first found to be unusual, due mainly, again, to its bitterness. At first I was dubious, but being of limited means, persevered. By the time I had finished the first pint I was hooked. My friend, did not like the beer, and being better off abandoned it for a G and T – so I finished his pint as well!
Father was a fervent ( Manchester ) Guardian reader. Every Saturday the late Richard Boston had a column on beer (surprisingly called Boston on Beer ), which I read avidly. Each week Boston extolled the virtues of several, mostly fairly strong in their day, real ales – in particular Youngs Special, Morland Old Speckled Hen, Ruddles County and, especially, Courage Directors. These beers were then still brewed at their original locations, and not moved around the country to become paler and weaker imitations of their former selves. Courage Directors at that time was only brewed in a small quantity at the old brewery in Alton for the board meetings, with the excess supplied to a handful of pubs, which Boston listed. I joined CAMRA then, in the era of the fight against the 'big six' breweries (Whitbread, Scottish and Newcastle, Bass Charrington, Allied Breweries, Courage Imperial and Watneys) who were at the time buying up local breweries, closing them and overrunning the country with bland, fizzy beer. Decades of campaigning paid off, we had incredible success and the tide turned.
So why suggest that nothing has changed? Today I see parallels with the '60s and '70s; then, the 'big six' were buying up smaller brewers, now we have seen some of the regional brewers buy up smaller companies to become super regional or national (for example Marston's and Fuller's). Likewise these brewers and the non-brewing PubCos are buying free houses so that the UK's burgeoning number of small and micro-breweries must fight harder to get their beer into any outlets as the number of options shrink. Today, drinking a bland version of Fuller's London Pride or equally bland version of Sharp's Doom Bar as far away as northern England or Scotland is reminiscent of finding, say, the ubiquitous Red Barrel the length and breadth of the country. I am sure that these products are very palatable when drunk close to their origins.
So CAMRA's role is as important today as it ever was. We must continue championing Britain's brewers, producing good real ale in a variety of styles and tastes and served following traditional methods in tip top condition. Cheers!
---
---
Forty Years of Beer Festivals Hop Press index

Rob Whatley/Dave Etheridge
The most famous beer festival in the world is Munich's Oktoberfest. It is held in a series of vast tents, each run by a different brewery. It has led to many imitators, especially in the use of the name, including of course the Hampshire version, OctoberFest, that is held in Basingstoke.
When CAMRA branches began to get established around the country in the mid-1970s many decided that holding a beer festival would be a good idea. The Southern Hampshire branch's first beer festival was held in 1975 at Millbrook's Blighmont TA Centre. Many of those early CAMRA festivals, such as Kent, Cambridge and Norwich have been held every year since and are still going strong. CAMRA's first national beer festival was held in the recently abandoned market buildings at Covent Garden, in September 1975. Beer festivals run by university real ale societies were also common at this time.
These beer festivals were used to showcase locally brewed or locally available beers and to tell customers which pubs, few then, they could drink them in. If beers from further afield were to be sold, they usually had to be collected directly from the breweries by those running the beer festival.
The last 10 years or so have seen an explosive growth in the number of beer festivals both locally and throughout the country. Most festivals, though, are now held in and by pubs. As the pub trade struggles they are obviously seen as money spinners and it is good to see that the promotion of real ale is thought of in this way. Southern Hampshire CAMRA's branch web site hosts a list of all the beer festivals that we are told about:
www.shantscamra.org.uk/beerfestivals
At bank holiday weekends the list grows so that it might just be easier to list the pubs that are not holding festivals. The growth of beer distributors has certainly helped pubs (and us) to source a bewildering nationwide range of beers and of course all day opening helps in selling them.
Many beer festivals are held to raise money for charity, either exclusively or partially. For the last 20 years the Portsmouth and South East Hampshire branch has been running a beer tent at the St Mary's church May Fayre raising money for the church. Last October, in Swanmore, St Barnabus Church even held a beer and hymns night!
So with so much competition from pub and other beer festivals as well as more pubs offering a large and changing range of beers, why does CAMRA still hold them?
Firstly beer festivals are a good way of getting CAMRA's name across to a wider public. This can help both to attract more members to join and also build CAMRA's profile, which helps when campaigning for more protection for pubs and a fairer duty rate for beer. It also acts as a meeting place for CAMRA members who can contribute to the campaign by helping at the beer festival. Festivals also act as a showcase for local breweries and often give the customers an opportunity to meet brewers. Southampton Beer Festival hosts the annual Hampshire Beer of the Year judging and also a regional round of CAMRA's Champion Beer of Britain competition. Finally CAMRA beer festivals do help to raise the money we need for campaigning.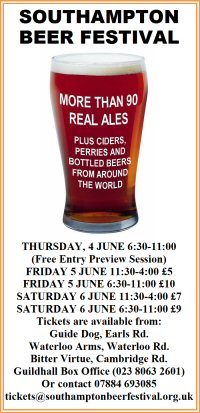 This year the Southampton Festival reaches its nineteenth year, on June 4, 5 and 6, at the Guildhall. This now established and popular event has been organised and run by mainly the same team from the Southern Hampshire Branch of CAMRA for all of these years. Overcoming various cost and legislative pressures for several decades, but we are now facing the great insoluble problem, we are all getting older!
If you are a CAMRA member who has thought about working at a beer festival or a current member of staff who would like to learn new skills please go to:
https://www.southamptonbeerfestival.org.uk/volunteering/ for the festival staffing form.
Have you ever wanted to learn the skills of the bar team? Our bar managers will be more than pleased to show you how to handle a mallet and dip stick and if you are available on Wednesday June 3rd, how to assemble the tangle of pipework that becomes the beer cooling system. If after the festival you decide this is your forte the Branch can put you forward to go on the week-long bar managers' course at the Great British Beer Festival in London each August (the 2015 course is now full) to learn even more about looking after and serving cask beer, at the end of the course you receive a CAMRA bar manager's certificate. If your taste is more for cider or perry our team will be more than willing to pass their knowledge of running a cider and perry bar, as, equally, will the team running the bottled beer bar.
If your field is administration there are plenty of things that need administering at the festival including entry, token sales, beer tasting/judging competitions and the other little problems that arise during the festival. The team managing the festival are always looking to pass on their experience and receive some help. In future years help with the ticket sales and other pre festival arrangements would be appreciated.
So if you have considered volunteering to help at the festival please fill in the staffing form and come and join us – we are a friendly bunch and will be pleased to show you the ropes. If you are interested in learning bar skills or shadowing one of the organisers please add a note to your form, we will be happy to pass on what we can.

---
---
Pubs and Beers beyond the Itchen Hop Press index

Dave Etheridge

Twenty years ago there were 41 pubs in eastern Southampton (east of the river Itchen), I have been paying all these pubs visits from time to time, or I should say as many as I can, as 18 have closed in twenty years. The losses are:
The Ark, Meggeson Ave., closed, boarded up.

Bullseye, Butts Rd., now a Tesco Store

Castle Inn, Trent Rd., also a Tesco Store

Chamberlayne Arms, North East Rd., demolished for housing

Cliff, Portsmouth Rd., converted to residential use

Drummond Hotel, Bridge Rd., converted to an electrical store then a Premier store

Elephant and Castle, Bursledon Rd., demolished for housing

Exford Arms, Exford Ave., demolished for housing

London Arms, Victoria Rd., converted into offices

Manor House, Swanage Close, converted to residential use

Merry Oak, Deacon Rd., converted into a veterinary surgery

Percy Arms, Commercial St., converted to a pharmaceutical warehouse

Seaweed Inn, Western Lane, demolished for housing

Spring Inn, Spring Rd., demolished for housing

Sun Hotel, Western Lane, demolished for housing

Swallows, Hinkler Rd., demolished for housing

Target, Butts Rd., demolished for housing

Winning Post, Merridale Rd., converted to a One-Stop Store
The Bittern, Thornhill Park Rd. is also threatened, with plans to convert it into a McDonald's drive-through, but a campaign by the locals, including applying to have the pub listed as an 'asset of community value' has so far kept the Bittern open. One other ray of sunshine is that two new pubs have opened in that last twenty years, they are:
The Two Brothers, Townhill Way.
The Butcher's Hook (micro pub), Bitterne Park Triangle.

This gives a current stock in Southampton's eastern area of 25 pubs for me to monitor and not all of these regularly serve real ale! From my last visits six had none on and six had only a single variety, eight had two and five had three or more:

Pubs with no regular real ale:
Gardners Arms, New Town Rd.

Hinkler, Hinkler Rd., (one handpump with clip turned around)

Hare and Hounds, Cheriton Ave.

Peartree Inn, Peartree Rd.

Ship Inn, Victoria Rd.

Spike Islander, South East Rd.
The pubs with one real ale available:
Bittern, Thornhill Park Rd.

Bitterne Park Hotel, Cobden Ave.

Station Hotel, Bullar Rd.

Swan, Portsmouth Rd.

Victoria, Victoria Rd.

Yacht Tavern, Sea Rd.
Pubs with two real ales available:
Big Cheese, West End Rd.

Bridge Inn, Portsmouth Rd.

Fox and Hounds, Pound St.

Grove, Swift Rd.

Millers Pond, Middle Rd.

Red Lion, Bitterne Rd.

Robin Hood, South East Rd.

White Swan, Mansbridge Rd.
Pubs with three or more real ales available:
Butcher's Hook, Bitterne Park Triangle.

Hop Inn, Woodmill Lane.

Humble Plumb, Bitterne.

Obelisk Hotel, Obelisk Rd.

Two Brothers, Townhill Way.
The beers available in these two eras, show some interesting developments as seen in these two lists:
1995

Bass, Draught Bass (3)

Courage, Best Bitter (3), Directors (5), J. Smiths Bitter (6), Webster's Yorkshire (3)

Eldridge Pope, Dorchester Bitter (2), Thomas Hardy Ale (1), Royal Oak (2)

Gales, Best Bitter (1), HSB (1)

Marston, Bitter (1), Pedigree (1)

Morland, Old Speckled Hen (2)

Ruddles, Best Bitter (2), County (1)

Tetley, Bitter (1)

Wadworth, Henry's IPA (1), 6X (8)

Whitbread, Boddingtons Mild (1), Boddingtons Bitter (2), Castle Eden Ale (1), Flowers Original (7), Strongs Bitter (2)

Guest Beers, (4)
2015

Adnams, Bitter (1)

Bowman, Swift One (1)

Fullers, London Pride (2), Gales HSB (1)

Greene King, IPA (2), Old Speckled Hen (1)

Marston, Draught Bass (1), Ringwood Best Bitter (2), Ringwood Fortyniner (1)

Purity, Mad Goose (1)

Sharp's, Doom Bar (7)

Skinners, Betty Stoggs (1)

Wadworth, Henry's IPA (2), 6X (3), Swordfish (1), Old Timer (1)

Wells, Courage Best (2), Courage Directors (2), Bombardier (2)

Guest Beers, (10)
In these two decades as the number of pubs in eastern Southampton reduced from 41 to 25, a 39% loss, the number of pumps serving real ale has only gone from 61 to 44, a 28% reduction of real ale availability. Over the twenty years we have also lost many of the breweries that supplied our beer in 1995 with Eldridge Pope, Morland, Ruddles and the Whitbread breweries all lost, Bass now brewed at Marston who also own Ringwood, the Courage brands are now owned by Wells, and Gales by Fullers. The main success in beer supply is by Sharp's with its Doom Bar, although this is of course just a miniscule part of the mighty Coors multinational. The guest beers in 2015 were mainly available at the Butcher's Hook and Humble Plumb with one seasonal beer at the Robin Hood.
Only four of the surviving pubs are still owned by brewers: Greene King has the Big Cheese, Marston the Bridge Inn and Wadworth the Millers Pond and Humble Plumb which accounts for most of the availability of their beers in the area, although all three had at least one beer at a pub not owned by them. The rest of the pub stock is owned by pub companies, again with the exception of the Butcher's Hook, which can be considered a 'true' free house.
From the beer list it is clear that the new Hampshire brewers are not well represented in eastern Southampton with just the Hop Inn serving Bowman Swift One as a regular beer and Itchen Valley QED as a guest beer at the Robin Hood last time I visited. Of course Hampshire brewer's beers are regularly available at the Butcher's Hook.
Overall the real ale revolution of the last twenty years has passed without notice in eastern Southampton. What will the next twenty years bring? Will I have more (or more likely less!) than twenty five pubs to visit without crossing the river? Will there be more micro pubs or a Weatherspoon in eastern Southampton ? What beers will be available, will Doom Bar still hold the number one spot? I look forward to another twenty years monitoring, even if it does mean having to have a half of lager from time to time!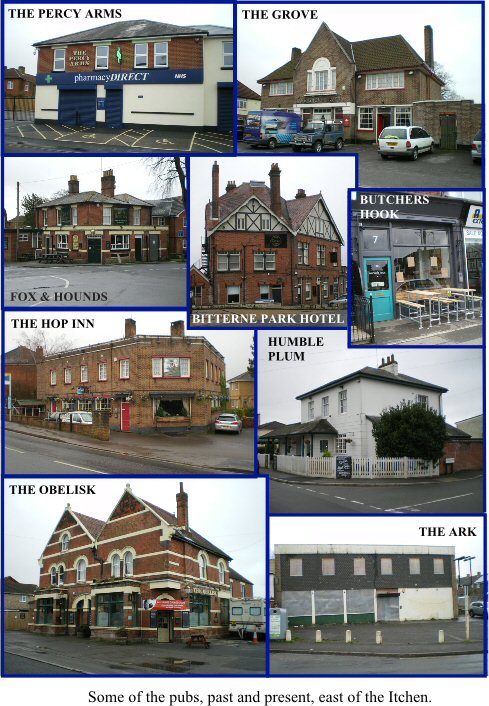 ---
---
Ray Massey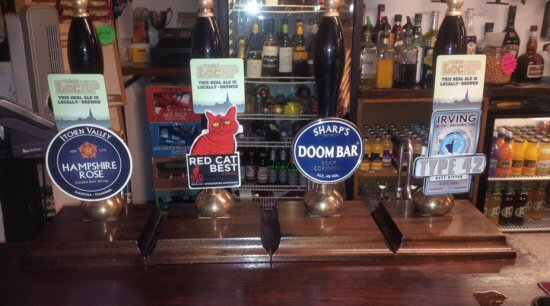 Have you been in a pub where the pump clips have a topper or rider on them like these? Then congratulations, you've been in a pub that encourages its customers to drink locally brewed beers. CAMRA has recognized such laudable actions and coined the name LocAle to identify such pubs.
The LocAle initiative, promoting pubs stocking locally brewed real ale, builds on the growing consumer demand for quality local produce and an increased awareness of 'green' issues. The first LocAle scheme was created in 2007 by CAMRA's Nottingham branch, to support the tradition of brewing in Nottingham, following the demise of local brewer Hardys and Hansons. Now at least 125 CAMRA branches participate in the LocAle scheme and they have accredited many hundreds of pubs as LocAle pubs. Your local branch – Southern Hampshire – is one of them.
Everyone benefits from pubs stocking locally brewed ales. Public houses benefit: stocking local real ales can increase a pub's visitors. Consumers enjoy greater choice and diversity. The local brewers gain from increased sales. The local economy benefits because more money is spent and retained locally and the environment benefits, because fewer 'beer miles' result in less road congestion and pollution. Finally, tourism gains from an increased sense of local identity and pride – celebrating what makes a locality different and memorable..
Accreditation is controlled by the local branches of CAMRA, and subject to the licensees agreeing to endeavour to have at least one locally brewed real ale on sale at all times. Depending on the geography of an area branches around the country have set differing distances as 'local.' What would be reasonable in the Highlands would be manifestly excessive in a city region.
Our criterion is that the brewery and the pub should be less than 25 miles apart (straight line measure). Currently there are just under 50 pubs in our LocAle scheme, although this number is increasing all the time. Full details of the scheme, the pubs therein, and their LocAle beers can be found on our website (www.shantscamra.org.uk).
Note that CAMRA's Good Beer Guide now has a LocAle symbol showing nationally which pubs are in the LocAle scheme. For your convenience, a list of the LocAle pubs in southern Hampshire (at the time of writing) follows:
In and around Eastleigh : the Wagon Works ; the Hampshire Bowman, Dundridge; the Rising Sun, Swanmore; and the Wheatsheaf Inn, Shedfield.
In the New Forest: the Drift Inn, Beaulieu Road; the Forest Inn, Ashurst; the Master Builder's House Hotel, Bucklers Hard; the Rising Sun, Wootton; the Royal Oak, Fritham; the Royal Oak, North Gorley; the Six Bells, Lymington; the Thomas Tripp, Lymington; the Turfcutters Arms, East Boldre; Tyrrell's Ford Country Inn, Avon; the Vibrant Forest Brewery, Bowling Green; and the Wheel Inn, Bowling Green.
In Waterside, west of the Solent: the Anchor, Eling; Ebenezers, Hythe; the Jolly Sailor, Fawley; the King Rufus, Eling; the Langley Tavern, Langley; and the Old Mill Inn, Holbury.
In and around Romsey: the Cromwell Arms, the Luzborough, the Three Tuns ; the Black Horse, West Tytherley ; the Dog and Crook, Braishfield, and the Wheatsheaf, Braishfield.
In Southampton: the Bitter Virtue (off-licence); the Giddy Bridge ; the Guide Dog ; the Hop Inn ; the Junction Inn ; the Key and Anchor ; the Platform Tavern ; the Rockstone ; the South Western Arms ; the Waterloo Arms ; and the Wellington Arms.
In and around Winchester: the Black Boy ; the Fulflood Arms ; the Hyde Tavern ; and the Old Vine : the Bugle Inn, Twyford; the Flowerpots Inn, Cheriton; the Kings Head, Hursley; the Phoenix Inn, Twyford; and the Running Horse, Littleton.
With the surprising growth of small and micro breweries recently, the choice of breweries (for those pubs that have a choice) has steadily got wider and wider. There are now more than two dozen breweries in Hampshire whose beers are available in some pubs in our area of Southern Hampshire (think Eastleigh, New Forest, Romsey, Southampton, Winchester). In neighbouring counties there are also nine Dorset breweries, eleven Wiltshire breweries, and three each from the Isle of Wight, Berkshire, Surrey and West Sussex whose beers are available in some part of our area; a total of around sixty! It is almost a case of too much choice.
However, because of the 25 mile distance constraint, the most LocAle breweries accessible to any individual pub hereabouts is about 30. Not surprisingly these lucky pubs are in the Romsey/Hursley/Twyford belt located between Southampton and Winchester. The pubs on the coast don't fare quite as well (no one has set up an off-shore brewery, yet…), but even these pubs have nearly 20 LocAle breweries available to them.
Now, finally, a little quiz: in which pub was the picture at the top of the article taken? No prizes, but there could be a clue in the picture. It could be fun finding out. You have the list of nearly 50 pubs above, and it must be one of them. Why not start visiting them.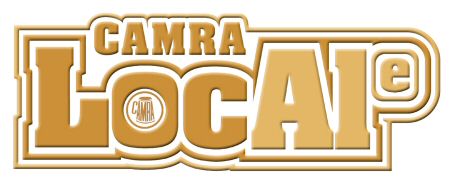 ---
---
Competition Crossword Hop Press index
QUETZALCOATL (printable pdf version here 34KB download)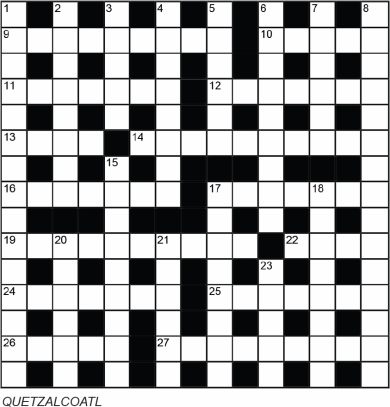 Alphabetical jigsaw. Solve the clues and fit the answers in where they will go.
Across
9.
Popular variety of somersault (9)
10.
A beer at noon regularly is comic (5)
11.
Endless charm to fit Oxford lab (7)
12.
Like today's snaps or Dawkins' gene? (7)
13.
Defenceless 17a swan's plea to mate (4)
14.
Residential pad. Nice one by the sound of it? (4-1-5)
16.
Lazy operation of a fairground stall (7)
17.
Unstructured pub leaves loving mood (7)
19.
Team statistics prepare a novel for the radio? (6,4)
22.
Paradoxical dialectician (4)
24.
A doggone police trainer (7)
25.
Stands witness at the Oval, Lords etc (7)
26.
Lozenge initially red hot on my breath (5)
27.
Profound thinker cracks totaliser! (9)

Down
1.
Deltiologists' most read entreaty? Presence hoped for, often at x-marked spot (4,3,4,4)
2.
Crack the whip or beaver split/rebuilt (8)
3.
Envious when taking back money (5)
4.
Nice house in affirmation of evil? (8)
5.
New, non-American editor (6)
6.
Setter fired up in favour of a total ban (9)
7.
Edinburgh's noted laird and 'logger' (6)
8.
Terror makes lone Scotsmen shriek (if half cut) (4,4,7)
15.
Old navigator's aid stole Arab design (9)
17.
A pointless romantic union, spicy! (8)
18.
Builders cover up a reported omission (8)
20.
Preserve upland and I'll sing about it! (6)
21.
Canvas an address in the roll (6)
24.
Nation of many French reverses (5)
Prizes to the first two correct entries drawn. Closing date: 17th August 2015.
Send to:
The Editor, Hop Press, 1 Surbiton Road, Eastleigh, Hants. SO50 4HY
---
Issue 77 (October 2014) Solution & Winners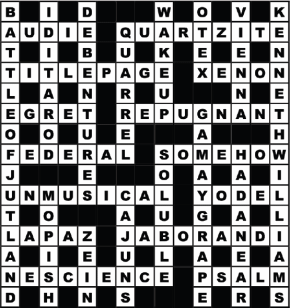 A good entry for this alphabetic jig-saw issue, twenty-one in all. Unfortunately eight had spelling errors so only thirteen went into the hat. Six of the eight put OTIX for the O solution and although this is a proprietary medicine in Spain, it is not, I believe, available here – do multitudes of British sunseekers get ear troubles when on the Costas?
Winners:
Rod Cross, Botley, Southampton
Robert D Elliott, Chandlers Ford

The other eleven correct solvers were:
Jocelyn Britcher
David Chessman
Nigel Cook
Rev Doc Kump
Roy Garraway
Mrs E J Jackson
Tim Parkinson
Nigel Parsons
Ron Poole
John True
John Yalden
---
---

CAMRA's annual Winter Ales Festival, held this year in Derby, awarded its highest accolade – Champion Winter Beer of Britain 2015 – to Elland brewery's lovely 6.5% (!), 1872 Porter. What is more, this is the third time this remarkable beer has won, in 2010, 2013 and now; not to mention a gold medal award from an international brewing competition in 2004 and a gold medal from the SIBA (Society of Independent Brewers) national contest in 2011.
The return from the brink of extinction of the porter beer style is one of CAMRA's undoubted achievements. In the 1970s one could safely bet the deeds to the ranch that you could visit a hundred pubs not only without finding a porter on sale but without finding a landlord or barman who knew what a porter was! Only one faint reminder of the once ubiquitous style existed, as a single keg beer: Guinness. Now the public demand for beers with real flavour has meant that those being brewed run into three figures.

---
---
Hop Press Issue number 78. Spring 2015
Editor: Pat O'Neill
1 Surbiton Road
Eastleigh
Hants.
SO50 4HY
023 8064 2246
hop-press@shantscamra.org.uk
© CAMRA Ltd. 2015