Hop Press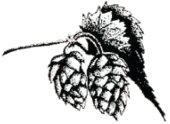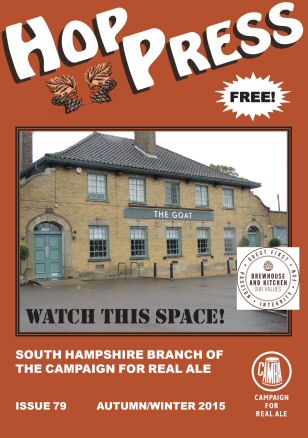 Issue 79 – Autumn 2015
Go to Previous Hop Press Browse for another Hop Press
Go to Next Hop Press
Contents
Aussie singer Slim Dusty, in the sixties, asked: "What good is a pub with no beer?" – it was a pertinent question in Eastleigh on a recent Thursday in October when Wetherspoon's pub the Wagon Works allegedly spent much of a day with no cask beer on any of its ten handpumps! To make matters even worse this was in the middle of one of Wetherspoon's frequent beer festival weeks.
In a practice, common throughout the industry, the pub's handpumps are all supplied with beer from the cellar via small, compressed air driven auxiliary pumps (to minimise wastage by allowing smaller bore pipework to be used) and, if rumour is to be believed, the compressor had been turned off but no one on duty knew… Note to Tim Martin: some cellarmanship education within your empire might not come amiss.


On August 15th a unique triple presentation took place, when three separate CAMRA branches met at the Vibrant Forest Brewery near Lymington.
Southern Hampshire, East Dorset and Western Sussex branches enjoyed each other's company and a few beers, as Western Sussex Chairman, Phillip Wildsmith, presented Vibrant Forest with the award for 'Beer of the Festival' from the recent 26th Yapton beer festival, Southern Hampshire Social Secretary, Andy Burrows, presented this year's 'Beer of the Southampton Festival' award also to Vibrant Forest and to Mark & Jenny Betteridge from Betteridge's Brewery at Hurstbourne Tarrant, also in attendance, an award for their stout, Serious Black, which came first in the under 4.5% abv class (third overall) at the Southampton festival this year.
Oh, East Dorset CAMRA? They came just for the beer, the food, and, the chat!!


Whilst on the subject of awards, the BBPA, the British Beer and Pubs Association, at their recent annual dinner made their usual selection of awards for the year and the Hogs Back brewery at Tongham near Guildford took the top place with recognition of their initiative in establishing their own local hop garden – a venture that also involves the community both in the picking and in a variety of parties centred around the hops' harvest and processing. With their own garden now in full operation over 60% of the hops used at Tongham are grown within three miles of the brewery; an example of localism at its best.


The cover picture of this issue is of the Goat in Highfield, Southampton – formerly simply the Highfield – which is set to become Southampton's newest brewery under the ownership of the Brewhouse and Kitchen chain. To see more details of their operations in other cities, find them under:
Brewhouse and Kitchen are an interesting company, an entry into the beer and pub scene of venture capitalists being backed by Puma Venture Capital under the Enterprise Investment Scheme – a very tax efficient vehicle for small(ish) investors. They already have eight of their brew-pubs in operation: two in north London and others in Bournemouth, Bristol, Dorchester, Gloucester, Poole and Portsmouth with new ones planned for Southbourne, Sutton Coldfield and here in Southampton. Their funding at present should point towards an aim of growing to twenty by the coming year.


It behoves the Editorial section of Hop Press to take a view on the mammoth takeover struggle between SABMiller and Anheuser-Busch InBev. As we write the colossal £68Bn merger is still not a done deal as SAB have requested an extension into early November to give more time to consider the terms of the deal. Of course the straightforward view for us is that their epic struggle is of no interest, but when the T Rex takes on the Stegosaurus it is advisable for any proto-mice in the undergrowth to seek cover…
The received wisdom is that AB InBev are just looking to get into the market in Africa which they see as the growth area in the next few decades (with Europe as the mature non-growth area) and therefore, if it goes through, it will have little impact here. However, if it does not succeed it may have more impact since there will be more vicious in-fighting to monopolise the supply within the UK – the already very limited and tough free trade market that our growing number of small brewers face may become even harsher. A possible up-side of ever increasing market power is that this mega-corporation may put more weight into fighting the overall loss of pubs to 'development.'


As readers will see in the Pub News item of this edition, Southampton may soon have its second micropub. A change of use planning application is being considered by the city council for a (currently closed) bookshop in Portswood Road to become the city's second example of this novel source of a pint, a rival to Bitterne's very popular Butcher's Hook.
The micropub movement has been one of the outstanding successes of recent years. With the national pub stock continuing to decrease, still at scores per week, as the pubcos struggle with their crippling debts, hundreds of these new concept 'pub-shops' have been opening and most decidedly not closing.
They are so successful, since their invention with Herne Bay's Butchers' Arms in 2005, that in CAMRA's selection of the 16 best pubs for 2016, no less than three are micropubs – the One Inn in the Wood, in Petts' Wood, the Yard of Ale in Broadstairs and the Hail to the Ale in Wolverhampton.


Finally, a couple of festival dates for your diary:
The 2016 Winchester Beer and Cider Festival is now set for Friday, March 18th and Saturday, March 19th at the Winchester Guildhall.
Next year's Southampton Festival, at Southampton's Guildhall is set to run from Thursday, June 2nd to Saturday, June 4th.

---
---
Rob Whatley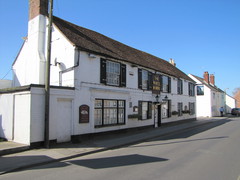 White Horse, Milford-on-Sea

Milford-on-Sea
In recent months there have been a number of disputes over the maintenance of the infrastructure of pubs. Benjamin and Vikki Renouf had run the White Horse in Milford-on-Sea since July 2013. They were looking to sell the lease (which included a requirement for repair and maintenance by the lease holder) but a survey of the Grade II listed pub by owners Enterprise Inns found that the required maintenance exceeded the value of the lease. As a result the pub closed and 23 staff lost their jobs. There had been rumours that part of the car park could be sold off for housing. No planning application has been submitted but Enterprise Inns have not ruled it out.

Hilltop, Beaulieu
A similar situation arose at the Royal Oak, Hilltop, which Reginald Chester-Sterne and his wife Alison have been running for the last seven years. The couple were looking for a new tenancy agreement but were only offered a five year deal rather than the 20 years they had previously held. During negotiations, owners Enterprise Inns commissioned a survey which resulted in the couple being presented with a £47,000 repair bill! The bill was subsequently reduced as it included £2,000 of repairs to the car park, which the company doesn't own. Mr and Mrs Chester-Sterne subsequently left the pub.

Pilley
Another pub where maintenance disputes have been an issue in the past is the Fleur-de-Lys, Pilley. Fortunately, following a number of changes of management, things seem to have stabilised under licensees Steve Hurst and Vanessa Cooper, who took over the historic, thatched pub in the spring.

Dibden Purlieu
A pub where neglected maintenance shouldn't be a problem is the Heath, Beaulieu Road, Dibden Purlieu. The pub reopened during the summer after an extensive refurbishment. The pub was also in the news recently when a company that had been employed to clean the pub's kitchen and extractor fan, Macdet, were fined £12,000 after one of their employees fell off the pub roof while cleaning the extractor fan. Fortunately the cleaner was not badly hurt as he did not fall to the ground. The incident occurred in 2014 and was not connected with the recent refurbishment.

Barton-on-Sea
A major refurbishment of the exterior of the House Martin, Barton-on-Sea is on the cards. An application has been made for an extension to the car park, extensive signage and changes to the external appearance of the pub itself.

New Milton
Nearby Milton Barns in Gore Road has closed after Karen O'Neill and her partner Hassan Ismail were deported back to their native Canada. Although the venue continued to be run by the existing members of staff, it eventually closed in September. Owners MIA Investments hope to reopen the premises under new management.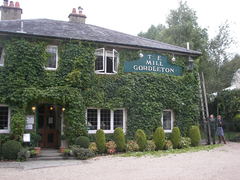 Mill at Gordleton
Gordleton
The Upham Pub Company has added another venue to their growing estate, The Mill at Gordleton (several miles NW of Lymington)

Ashurst
We noted in the last issue that an application has been submitted to create 10 hotel rooms at the New Forest Hotel. The application was refused. The reason given was the impact of the associated car park that was part of the application.
The adjacent Happy Cheese underwent a refurbishment earlier this year. The new outside paved area, benches and children's play area were ready in time for the summer holiday trade.

Godshill
The Happy Cheese owes its name to a pub that used to stand opposite, the Angry Cheese. While that name's origin is unusual it is unlikely to cause any upset, this was not the case recently when animal rights group People for the Ethical Treatment of Animals (PETA) claimed the name of the Fighting Cocks at Godshill should be changed to something that doesn't bring to mind the violence and cruelty of cock fighting, such as the "Clever Cocks". Licensees Tim and Kay Eyre rejected the idea but it was a positive outcome all round in terms of the amount of publicity generated for both PETA and all the Fighting Cocks pubs throughout the country that were targeted by the group.

Winsor
A pub that is well know for its friendliness towards dogs, the Compass Inn, Winsor, has announced that its menu is now gluten and wheat free. Long serving landlady Mop Draper, who is herself gluten intolerant, says that most of the food served at the pub has been gluten free for some time.

Eling
We reported the closure of the Village Bells in the last edition of Hop Press. There is better news elsewhere in the village. At the King Rufus opposite there should soon be new owners who will keep the pub open. The Anchor is also open again after a short period of closure.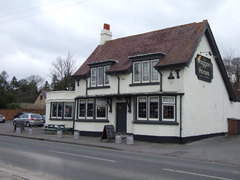 Waggon and Horses, Walhampton
Lymington
There is a new face at the Waggon and Horses, Walhampton where Nick Turner is at the helm of the new management team. The pub is one of six in the Little Pub Group, which also run the Foresters at Frogham and four Winchester venues, the Green Man, the Mucky Duck, the St James Tavern and the Corner House..
Elsewhere in the town, two licensing issues have aroused controversy. The Fusion Inn in Queen Street was successful in obtaining an extension to its closing time on Friday and Saturday to 2.30am from the previous 1.30am. There were a number of objections from local residents but none from either the police or environmental health. In the hearing, mention was made of the situation under its previous guise of the Black Cat, when it was under different management.
A bad reputation under previous management was also raised when an application was submitted to reopen Longs Bar in the High Street. The bar closed in 2011 after a series of incidents and a reduction in permitted hours. The emphasis was to be very much on locally brewed beers with occasional music provided by predominantly acoustic solo and duo acts. Unfortunately, due to issues with the building, the venture will not be going ahead.

Adnac Park, Nursling
There has also been criticism of licensing hours for Greene King's proposed new outlet at Adnac Park, off the M27 near Nursling. The site comes under the jurisdiction of Test Valley licensing committee. The Farmhouse Inn will be on a largely industrial site, though 23 new homes will be built nearby and residents from the nearby Hillyfields area were among those to object. Despite the objections, permission was granted for the pub to be able to open until 12.30am, seven days a week.

North Baddesley
A little to the north, the Bede's Lea in North Baddesley underwent a refurbishment earlier in the year and is now styled as a "family dining pub".

Romsey
Moving to the centre of Romsey, the Abbey Hotel has seen a number of changes of management over recent years. More stability should emerge as it has now been taken over by the group that runs the nearby White Horse. It is hoped that it will reopen in January following a £500,000 refurbishment that will see it emerge with nine bedrooms and a honeymoon suite. It will though remain as a pub but under the new name of the Abbey Inn. Close by, permission has been granted for new signage and lighting at the Tudor Rose.

Timsbury
The Malthouse, Timsbury was fenced off and closed during the summer. A five year tenancy is being advertised on the website of the owners, Enterprise Inns. Building work/renovations appear to be under way so we still hope it may reappear as a pub.

Braishfield
There is still uncertainty of the future of the Newport Inn, Braishfield. Unfortunately none of the current options appear to include the reopening of the pub, which closed in 2013, by the owners, Fullers. A proposal was made to covert the pub to a dwelling and construct two other homes on the site. Although the plan was supported by the Parish Council and 40 local residents, planning officers recommended rejecting the plans and the planning committee confirmed the rejection.

Horsebridge
In May the John O'Gaunt, Horsebridge was severely damaged by fire. It was mid-evening and the pub was open at the time, so customers and the licensee were more than surprised when told by a passer-by that the upstairs was ablaze. It was later established that a candle was responsible for starting the fire. Although, as mentioned elsewhere in this edition, the pub is now classed as an asset of community value its fate at the moment is still unclear.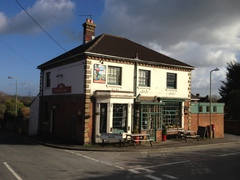 Foresters Arms, Bishopstoke
Bishopstoke
Following its closure earlier in the year, an application has been submitted to demolish the Foresters Arms on the edge of Bishopstoke and replace it with a terrace of three, four bedroom dwellings.

Eastleigh
Returning to controversial changes to opening hours, the Litten Tree in Eastleigh town centre can now open until 3am on Friday and Saturday evenings, an hour later than the previous closing time. The original request to open until 3.30am was withdrawn after discussions with police. It is also now able to open from 7am for breakfasts

Fair Oak
Staying with the time theme, the New Clock Inn, Fair Oak underwent extensive refurbishment earlier in the year, including changes to the internal layout.

Upham
Continuing eastwards, the owners of the Brushmaker's in Upham have taken the unusual step of advertising the forthcoming availability of the lease of the pub with a large advertisement in the Hampshire Chronicle. The pub is independent and not part of any big pub group. The lease is available from February next year.

Waltham Chase
On the edge of our branch borders, the owners of the Black Dog, Waltham Chase had an application for new signs rejected because planners considered them "excessive and obtrusive".

Crawley
News reaches us that Sally and Alex Wood are no longer running the Fox and Hounds, Crawley. They had been at the pub for three and a half years but have had to admit defeat in the battle to attract sufficient customers to be able to cover the costs charged by owners Enterprise Inns. Enterprise say that they are intending to find new licensees for the pub. With the loss a few years ago of the near-by Rack and Manger this is now quite a 'pub-free' hole to the north of Winchester.

Ovington
Just off the A31, advice has been sought and received from the South Downs National Park planners regarding permission for a single storey extension to provide additional dining space at the Bush Inn, Ovington.

Alresford
We have previously reported that the Running Horse in Alresford had closed. Now planning permission has been granted to convert the former Greene King pub into a six bedroom home.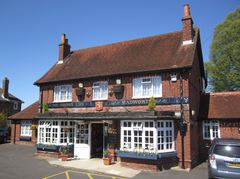 Golden Lion, Winchester
Winchester
We mentioned in a previous edition that the Golden Lion on Alresford Road was looking to expand. Earlier this year a new orangery and dog garden were unveiled following a £150,000 refurbishment. Also seeing significant changes was Alfie's in the city centre. The pub, which is owned by the City Pub Company, underwent a £500,000 revamp, including major alterations to the garden area.
The Fuller's owned William Walker was closed for a fortnight in September after the departure of landlord Colin Clarke. It has now reopened under Laura and Daniel Chapman. They have taken over the pub on a temporary basis and it is hoped that new permanent licensees will take over next year, when the pub is also due to be refurbished.
The Square area of the city can get somewhat rowdy on weekend evenings but it was another source of noise that has been disturbing the peace at one venue. A notice has appeared on the hand-drier in the toilets of the Old Vine stating that due to it apparently sharing its origins with a Harrier jet it had been turned off to stop it disturbing the sleep of hotel residents above. Hand towels are now provided instead.
In the last edition of Pub News we noted that The Bar in the Square (previously Bar 3 One) closed just a month after opening. The site is now occupied by The Stable. It is part of a chain specialising in cider and pizzas that started in the West Country. The company was founded in 2009 by Richard and Nikki Cooper. The first unit was in a stable at the rear of the Bull Hotel in Bridport. Since June 2014 the business has been 51% owned by Fullers. There is a wide range of draught ciders available plus one beer which, not surprisingly, is Seafarers, brewed by Fullers.

Southampton: City Centre
There will be another of the Stable chain opening in the new arts complex in Southampton, which is located opposite the Guildhall. A number of new bars and restaurants will be opening as part of the long awaited completion of the area's re-development. Nando's has already opened and it will be joined by a Faucet Inn outlet, which their website suggests will be named Neighbourhood. Faucet Inns already runs two other pubs in the city, Cargo in Oxford Street and the Tap Room (previously the Pensioners) in Carlton Place.
Another new venue that has already opened in the city is Stein Garten in the High Street. It is advertised as, "…a true German biekeller and restaurant. Bringing you a slice of Munich culture and atmosphere…" The keg beers on offer are Pils and Dark from Krombacher Brewery, Westfalia and the more widely available Erdinger. There is also a selection of German bottled beers.

Southampton: Shirley
The Malvern Tavern in Winchester Road, which is owned by Spirit Pub Company, underwent a £200,000 refurbishment during the summer.
Café Reflections on Shirley High Street is a fully licensed café which, although not offering any real ale, does, as appears to be a growing trend, offer a range of more interesting bottled beers, largely from Marstons and Hall & Woodhouse. It has hosted a number of music sessions in the evenings and is open from 8am (9am Sundays), closing at 5pm except on Thursdays and Saturdays (11pm).
Nearby in Shirley Road, the shop that was most recently Just ICE, which had been empty for a while, is due to become Overdraft. The application said that, "The premises are now intended to become a craft ale bar serving microbrewery ales and Farmer's Market sourced bar snacks…" It can sell alcohol between midday and 10pm
Continuing towards the city centre, a final decision has been made in the long running saga of the former Park Hotel, which closed in 2010. Permission has been granted to convert it to six one-bedroom and five two-bedroom flats. Perhaps trade in the past may have been better if the building exterior had looked as smart as it currently does. Pleasingly, a small area of tiling containing the pub's name has been retained.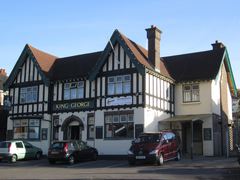 King George, Southampton
Southampton: Regents Park
The King George, which had been closed for many months, may be demolished and replaced by two rows of terraced houses, making six three bed homes in all, if planning permission is granted.

Southampton: Highfield
At the beginning of November the Goat in Highfield (formerly the Highfield) closed for a complete make-over and is due to re-open by the month's end. The pub has been bought by the Brewhouse and Kitchen micro-brewery company who already own several in London and others nearer to us in Portsmouth, Poole and Dorchester.
As well as providing a new brewery for the city the Brewhouse and Kitchen chain also run brewing courses at their other sites and even offer their equipment for 'private' brewing ventures. In keeping with all of their other establishments we assume the name will become the generic Brewhouse and Kitchen as at all their other sites.

Southampton: London Road/Bedford Place
Also undergoing an extensive refurbishment during the summer was the former Marshalls bar. After a short period of closure it reopened as Saddler's Brewhouse and Barbeque. It now features nine handpumps that offer a range of beers from Saddler's Brewery which was founded in 2004 in Lye, near Stourbridge in the West Midlands.
Almost opposite, on the corner of Carlton Crescent and Carlton Place Avondale House/Scream closed at the end of September and the building is fenced off at the time of writing. It must have been a fairly unexpected closure as a sign in the window was still advertising that it would be showing the world cup rugby.
Along the road in Carlton Place, an application by the licensees of the Cricketers Arms to extend its opening hours on Thursday, Friday and Saturday evening from 1am to 3am was refused by the licensing committee.
Round the corner in Upper Banister Street, Brewdog, the somewhat notorious brewers of exceptionally strong beers, are looking to open a bar in the premises currently occupied by Coco Rio restaurant. This would require a change of use from restaurant (Class A3) to bar (Class A4).
In Lower Banister Street, The Social, which describes itself as a "Dive Bar • Social club • Pub" has opened next to Pop World club.

Southampton: Bevois Valley
While new bars offering something different, such as Brewdog, are opening around the country, bars without such a distinctive profile are more likely to be suffering. The Dorchester Arms in Onslow Road, which closed in 2014 after a number of unsavoury incidents, is now to open as a shop, following the granting of planning permission.
Just down the road, a change in name may attract more customers to what was Inferno but is now Pre-Bar. Passers by will note that there is still a small reminder of it's previous incarnation as the New Inn as one of the new signs is suspended from a framework that still contains a red Gales logo.
Also looking to extend its trade is the nearby Shooting Star. An application was made to extend its opening hours on Friday and Saturday evenings from 2.30am to 3.30am. The application licensing sub-committee rejected the application, despite accepting that the premises were well run. Landlord Colin Pollard said following the decision that he would be likely to appeal.

Southampton: Portswood
Continuing on the same track, the owners of the Trago Lounge successfully applied be able to sell alcohol until midnight and also open at 8am in the morning to serve breakfasts. Weekend opening is at 9am.
There is some potentially very good news from the area as an application is being considered by the city's planning committee for Southampton's second micropub to follow the success of Bitterne's Butchers Hook. Jonathan Harris is hoping to turn the currently closed Peter Rhodes Bookshop, on Portswood Road, into the Bookhouse Alehouse a 'community focussed alehouse' that would open from 11am until 12pm daily. The application gives a capacity of 120 – not quite as micro as some – and 'acoustic music and spoken word' events would feature. The window for comments (there are currently 23 in favour and 2 against) closes on November 10th and the decision will be known in December.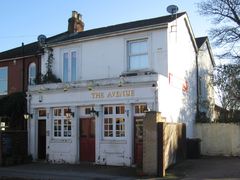 The Avenue, Southampton
Southampton: Inner Avenue
Locals were campaigning to save their pub, the Avenue in Padwell Road. The pub was due to close on 23 September after being put up for sale by owners Enterprise Inns. When the sale was announced the licensee, Paul Alders, put in a bid to buy the pub but was turned down. Unhappily the closure has gone ahead and this classic street-corner local now stands bleakly boarded up.

Southampton: Midanbury
Many pubs that have closed in recent years have been converted into convenience stores. One such was the Castle, Midanbury, which reopened as a Tesco store in 2013. Now another nearby convenience store, the Co-op, has closed, which does somewhat undermine the usual claims that such pub conversions are creating local jobs.

Southampton: Sholing
Staying on the east of the city, a new venture is due to open on 31 January. The new Gala Bingo in Antelope Park is advertising a split venue with part a traditional bingo club, where the usual reverential silence will prevail and the remainder a more lively "bingo pub".

Southampton: Bitterne
We end this edition with good news from Bitterne. Firstly the Red Lion is due to become a Wetherspoon outlet following a £1.6m conversion scheme that will include a number of extensions to the premises. Licensee Paul Cornwall had run the pub for many years and while some regulars may be unhappy with the change, it will go some way to improving the limited range of beers available on that side of the Itchen, as we reported in the last edition of Hop Press.
Finally, after many months of campaigning, regulars have saved the Bittern from being turned into a McDonald's. This follows a decision by a planning inspector to reject McDonald's plans for the pub. Congratulations all round for all those involved in the campaign.
As mentioned in an article elsewhere in this Hop Press, the pub is also now one of Southampton's first two to be granted 'asset of community value' status.

---
---
Assets of Community Value Hop Press index

Peter Simpson
CAMRA nationally has Key Campaigns spearheading the aims of the organisation. One current Key Campaign has a target of listing 1,500 public houses as Assets of Community Value (ACV's) by the end of the year. CAMRA's Southern Hampshire branch is playing its part and is actively campaigning to list vulnerable pubs as ACV's. My own opinion is that all pubs owned by the big pubcos, e.g. Enterprise Inns, Admiral Taverns and Punch Taverns, are most at risk.
So what is an ACV and why is this deemed of key importance? What are the benefits of an ACV listing and how are these achieved? Can listing be carried out by anybody or is it a complicated and unwieldy process?
In legal terms an asset of community value (ACV) is land or property of importance to a local community for reasons over and beyond its obvious primary role. If the local authority agree, an ACV listing will then provide some additional protection from development, under the Localism Act 2011. The provisions give local groups a right to nominate a building or other land for listing by the local authority as an asset of community value. It can be listed if a principal ('non-ancillary') use of the asset furthers (or has recently furthered) their community's social well-being or social interests (which include cultural, sporting or recreational interests) and is likely to do so in the future. When a listed asset is to be sold, local community groups will in many cases have a fairer chance to make a bid to buy it on the open market. Importantly, any proposed development gets a six month 'stay of execution' to allow interested groups to propose alternatives.
In the area covered by South Hants CAMRA the Assets of Community Value legislation places requirements on a) the district councils or b) the county council for an area where there are no district councils. For the Lymington area for example the statutory authority is New Forest District Council rather than Lymington and Pennington Town Council. The Parish Councils are, however, also consulted for their views on listing as ACV's of any assets within their area. This should be considered in good light as the more local the representatives the greater would seem to be the urge to keep their community pubs intact.
The importance of an ACV listing for a pub is to lessen the vulnerability to change of use by the owners into such businesses as supermarkets, betting shops etc. which without protection can be carried out immediately and in many cases without even reference to any planning rules. Hop Press's circulation area has lost many pubs to convenience stores, in some cases almost overnight, and in most cases with deals done out of the public eye, leaving no time for any preventative action by the pubs' patrons.
It seems no co-incidence that the Government attempts to force the larger pubco's into treating their tenants more fairly has led to an increasing number of disposals of blocks of pubs to smaller property development companies and an escalation of disputes of a property maintenance nature with tenants due to renew their leases. There is also a growing trend of only offering leases of 5 years rather than 20 to 25 years to outgoing tenants, reducing their security of tenure and the viability of their businesses. The ACV route of protection is therefore becoming in some way a race against time.
The listing of a pub as an ACV depends on it being shown to further the community social well-being and as such the ideal situation is to involve the customers of the pubs in the listing procedure. This procedure, which includes the collection of 21 signatures of local people (one per each address) within the area, or neighbouring area, of the asset requiring listing is not difficult. My own approach has been to write brief notes as to why the pub would benefit from ACV listing, describe the protection it offers, and include a request to sign the appropriate form. The notes can be attached to the pub notice board at the discretion of the licensee and the forms for signature kept behind the bar to provide easy access but also provide an element of privacy of the addresses. When sufficient signatures have been obtained the community benefits of the particular pub (all pubs differ in some way) are then laid out clearly to support the application.
The forms required can be found on both the District Council – Assets of Community Value section of their website and in the section on 'Protecting Your Pub' on CAMRA's website: www.camra.org.uk
Personally, I have used a combination of forms from both sources to provide maximum information and clarity to the application. The danger to be aware of is that a failed application will automatically prevent any subsequent re-application for 5 years. This is different from an incomplete application where the relevant authority may just require further information before beginning consideration. Despite the ease of application, pub customers may still feel unsure of or uncomfortable with the procedure. In such a case feel free to contact Deric Payne (Branch Pubs Protection Officer) on: deric.payne@shantscamra.org.uk or myself, on: peter.simpson@shantscamra.org.uk and the paperwork will be completed leaving just the signatures to be collected.
There have been an increasing number of situations when the pubs requiring ACV listing have already been closed and signatures therefore not obtainable in a practical manner. In these cases CAMRA as an organisation, a 'permitted body' in the application procedure as a non-profit making company with aims to protect pubs, may submit applications independently. This has been used on several occasions and is supported quickly by CAMRA nationally. Part of the procedure includes identifying the freehold owners of the pub, which ideally requires basic information from the Land Registry to which CAMRA has rapid access.
The relevant authority has 8 weeks to consider listing an asset as an ACV upon receipt of a valid application and the date the period is due to expire is notified to the applicant. All involved parties, the freeholder, leaseholder (as appropriate), the applicant and the parish council are all kept notified of the progress of the application. Confirmation of listing under the terms of the Localism Act 2011 (for a period of 5 years) is also notified.
The actual receipt of ACV listing is a cause for celebration and CAMRA is producing a package for successful community pubs including a bold, red, window sticker THIS PUB MATTERS to be proudly displayed. The more effort made by the customers of an individual pub the greater pride may be taken in the achievement.
At the time of writing, 850 pubs nationally of the targeted 1,500 have been listed. South Hants CAMRA has 17 pubs listed and others pending. Progress can be monitored on www.shantscamra.org.uk where all the listed and nominated ACV pubs are shown. Can YOU help increase this number and show your support for your community local?
The seventeen local pubs listed so far are:
Ship Inn, Owslebury
Running Horse, Littleton
John o' Gaunt, Horsebridge
Anchor & King Rufus, Eling
Borough Arms, Lymington
Musketeer & White Hart, Pennington
Fleur de Lys, Pilley
Crown Inn, King's Somborne
Fox & Hounds, Crawley,
March Hare, Harestock
Bitterne Park Hotel & Bittern, Bitterne
Jolly Sailor & Falcon Hotel, Fawley
Red Lion, Milford on Sea

---
---
Does CAMRA need revitalising? Hop Press index

It is almost 45 years since, in the early weeks of 1971, CAMRA had its inception under its original name of The Campaign for the Revitalisation of Ale. In that near half century the changes seen in the licensed trade – be it pubs, breweries, customers, their customs or perhaps especially the beers – are total, all-encompassing. Some of these changes we are proud to have provoked but many more are part of the complete lifestyle change that has made the western world of 2015 seem a different planet to those brought up in the '40s or '50s. Thoughts of this ilk are leading some CAMRA members to question whether the Campaign should revisit its childhood name and look for some of its own revitalisation.
A powerful imagination is needed to recreate the mental picture of a 1971 pub visit: Early evening, 8.30 say, we enter a smoke-filled room, painted in every shade of brown and crowded with standing men. The bar has several black truncheon-like handpumps but with no indication of what they may – or may not – dispense, there are also some bright, jolly plastic fittings, one perhaps shaped as a pewter tankard, one a small, scarlet cask and one perhaps a stylised monogram of two capital Ds. It is an unfamiliar house so, if the handpumps are working, a 'brown and mild' or a 'light and bitter' are probably safer choices than risking the unknown quality of the draught beer entirely on its own.
Possibly, moving with the times, you are drawn to one of the plastic gadgets and are rewarded with a dimpled mug of a cold, fizzy and slightly bitter, brownish beer. And that is it, in tens of thousands of similar pubs – a handful of more or less identical keg bitters of the same strength (stubbornly kept confidential), taste and appearance or a cask bitter and a mild (probably well-seeded with yesterday's drip trays), and, just possibly, an old ale or second bitter.
The beers themselves were taken for granted, flavours, origins, styles never questioned – assumed immutable. Only a rising tide of the new keg beers, plus the old cask ones now colder and fizzier from counter taps rather than the passé, unused, but still in place, handpumps. It was against this background that the Campaign was formed, with the avowed aim, in the title, of bringing some life back into British beer.
As to whether there had ever been a golden age when all beers were wonderful, ambrosia-like potions dispensed in jovial, Pickwickian surroundings; it is very probably wishful thinking (though key to a few PhD theses?). Even more so, can one single factor be blamed for the low quality of beer in pubs in those post-war years? This is even more improbable.
But every campaign needs a simple message, a flag for the troops to rally around. Two things stood out, the publican now had much less involvement with his beer – the brewery had much more; and the new practice of using bottled, high pressure gas to serve the beer had been developed. These two observations led to the Campaign providing its shorthand recipe for putting vitality back into beer – firstly, bringing the beer to its peak by maturing it in its cask, with living yeast and under the publican's control, then eliminating entirely any connection to a source of any form of gas. Thus was the definition of real ale, by 1973 a part of CAMRA's title, born and it is now entrenched into our language. But, to use the present century's popular phrase: is it still fit for purpose?
Serving more than four decades, the definition of real ale has survived some strains and there are others now clearly visible around us leading to some CAMRA members looking for a new mantra. The problem is one that is perennially faced by forecasters and one that is the downfall of futurologists: projecting trends is a linear, tractable task but anticipating invention and discovery demands clairvoyance!
The twisted history of the 'applied gas' element of our definition is an illustration. In 1971 there was just highly pressurised CO2, (very cheap since much of it was a waste product of breweries anyway!) so its brute force was called upon to get the beer into the glass from the gaudy new plastic fonts. Today this is quite incomprehensible to anyone with even a smattering of scientific knowledge – all major brewers employed staff chemists, then as now, who knew that CO2 was very reactive with water, dissolving readily to produce both carbonic acid and a very effervescent end result. Yet these breweries let their cellar teams install these systems, apparently without any consideration whatsoever of the beer's flavour or of the 'drinking experience.' Of course it was not to last and the raw CO2 was diluted at various mixture ratios with the inert and (almost) insoluble nitrogen, giving rise to a whole new style of drink, the 'smooth keg' (so called because the extremely tiny head bubbles, filled with the insoluble nitrogen, persist and are very hard to break down). Another development at the end of the last century which caused CAMRA much internal angst, although going totally unnoticed by the general public, was (is) the 'aspirator' – a special valve that lets just a trickle of gas into a cask to replace only the volume of beer just drawn out for sale. The science involved was twofold: to prevent oxygen (i.e. air) getting into the cask, accelerating staling and to prevent infective yeasts and bacteria getting in. At first sight innocuous, even praiseworthy, but the rigidity of our definition meant that we set our face against it and within 'The Trade' it became one of the less talked about subjects! Some good pubs (probably) have them, pubs in the Good Beer Guide (possibly) have them. How many? It would be interesting to know.
However, the 'applied gas' element is still the lesser part of the real ale yardstick The essential part of our '70s definition is still that the beer must be matured and brought to perfection by a slow, secondary fermentation, in its cask, followed by venting the evolved gasses to the atmosphere. This is where we run head first into a wave of new brewers, many using the imported soubriquet of 'craft brewer.'
The first, and obvious, thing to notice about these new kids on the block is that they are producing a huge diversity of beer types, many not seen in this country before. They have access to all of the brewing styles and techniques of the world, to offer us wheat beers, rye beers. saisons and sours, black IPAs and lagers, red ales – the list is endless. They also have a hugely enhanced palette of hop varieties, some with bizarre, un-hoppy flavours and they are willing to go to extremes of alcohol strength. All of this experimentation and attention to detail produces some remarkable beers; sometimes weird but occasionally of quite exquisite flavour. But, much of this production cannot be matched with our real ale definition, many styles are intentionally set to higher CO2 levels than cellar venting will permit, lots have some form of filtering before despatch, conversely numbers are not just unfiltered they are not even fined – although that never came into consideration by those 1971 pioneers since such an outlandish thing was not being dreamt of then!
And yet, some of these non-real ales are better by far than anything that could be found in that smoky, brown and cream bar imagined in our introduction. Should we not be celebrating the dramatic quality and diversity improvements that are so apparent? More pertinently, CAMRA, with its membership at an all-time high of around 170,000, frequently sees itself now as a national institution with views to be consulted on all things beer and pub related; in such a role our real ale definition, anchored in a previous era, is constantly used by critics as evidence of our unsuitability for such a role.
The Campaign's structure and day-to-day governance both look like those of a permanent institution – something of an outcome that surely never crossed the minds of those early founders. CAMRA is a limited company ('limited by guarantee' rather than by issued share capital), it has quite an extensive staff of permanent employees who certainly do not see their jobs as transient or in peril, it has a publishing arm, CAMRA Books, that behaves no differently than any other publishing house, we lobby Government and Government consults us; in short we are intending to stay.
With this clear presupposition of permanence and with the spread of our activities into so many realms of the pub and brewery industry, even the most traditional-minded member must have misgivings over the long-term adequacy of our central tenet. Yet how could it be changed without convulsing the Campaign? CAMRA needs its Luther!
This article is not going to advance any specific proposals for a new rallying cry, or even firmly conclude whether or not one is needed, but it simply seeks to bring into the daylight some ideas that are perhaps not getting their deserved attention. How can we embrace 'good quality beers' whilst rejecting 'poor quality' ones without being able to objectively tell them apart by simple observations like secondary fermentation and venting etc? Notice, especially, that neither our definition nor any of our tests of real ale actually involve any tasting of it whatsoever!
As a test case, how should we treat an American style, 8% abv, unfined IPA, made with a New World hop that has never ever been grown in Europe and deliberately carbonated above atmospheric venting level to make it 'sprightly' in the eyes of its craft brewer? Praise it and tens of thousands of CAMRA members will heap opprobrium on you, dismiss it and CAMRA will lose for ever the support of another new brewer. It is an invidious, and for the long term impossible, position to be in.
To the general pub-going public – the target audience of Hop Press – this may all seem very reminiscent of a conversation between medieval monks as to the exact number of angels that can sit easily on a pin head, and is perhaps even more boring! That it will increasingly exercise CAMRA members over the coming months and years is though, predictably certain.

---
---
Cask Ale Report 2015-16 Hop Press index

The autumn has now become established as the time to expect the annual survey of the state of cask beer – real ale – in the nation's pubs, the Cask Report. It has just been published and once again presents a very rosy picture. Cask ale is the on trade success story of the decade.
Volume growth. Cask ale has continued to show the sustained growth that was highlighted last year, in fact it is now in the third year of continuous growth against a background of continuous decrease in the overall draught beer market. Currently cask beer accounts for 57% and keg beers 43% of the sector and cask beer is outperforming the on trade beer market by 3. 4%.
The sales value of real ale this year is expected to be £1.8Bn compared to £1.4Bn in 2010 and is expected to reach £2.3Bn by 2020.
A unique experience. Cask beer offers a social and tasting scenario that it is almost impossible to replicate anywhere else but in the pub or club. Cask beer can, in practical terms, only be obtained in a pub or club setting and despite pub closures still running at over 25 a week and total trade takings still dropping cask beer is beating these trends – pubs stocking real ale are increasing despite the continuing closures and their takings are higher than those not in this market. Around 70% of all pubs now stock real ale.
Another aspect that should be in the mind of the licensee is that in parties of drinkers it is almost always the real ale aficionados that determine the group's choice of venue.
Variety. A marked trend, increasing since it was remarked on in last year's report, is the tendency for those pubs featuring cask beer to move from the one or two 'token' or perhaps tentative dispense points to ever larger arrays – astonishingly better than one in every ten cask ale pubs now offer seven or more varieties!
The growth is set to continue. The firm indications are that these growth trends will continue throughout the rest of the decade. By 2020 it is predicted that cask ale will be 70% of the total ale trade. The reasons seem to be, in part, based on underlying changes in the national psyche – as an example the astronomical growth in popularity of ever smaller breweries and brands is part of the broadly middle-class aversion to being 'taken for granted' as captive consumers by the advertising industry; a pint in a brew-pub is an immediate expression of individuality.
Another strand of this change in national character is the general trend to a 'less is more' approach – with the trend to drink less quantity comes a search for the best possible taste and quality and (though perhaps this should not be too widely publicised) to a lesser interest in cost. The average cask ale drinker spends almost £1000 per year in pubs, nearly double the average for all drinks customers, and he (plus increasingly she) is demanding ever better quality.
The modern zeitgeist of greenness, a search for authenticity and a nostalgia for some (probably never existing) retro golden age all chime exactly with the small brewery real ale scene.
Diversity will continue to grow. Since the introduction of the progressive beer duty in 2002, a move designed to level the playing field for very small breweries who are not able to benefit from economies of scale, the number of breweries has more than trebled and Britain now has more breweries in proportion to its population than any other country in the world. And with approaching 1700 already they are still opening at about 20 per month! In a bizarre way it is almost as if the nation was reverting to Tudor times…
Including seasonal beers there are now more than 11,000 varieties of ale currently being brewed in Great Britain. It must be a thought to bring despair to the one-time army of 'tickers' who tried to taste every one of the nation's beers!
Craft beer. The report tackles the thorny question of craft beer although perhaps not entirely satisfactorily from CAMRA's stance. Almost 60% of the population have heard of craft ale and almost exactly half of these believe they know what it is; however deeper probing finds that this belief ranges from 'it's the same as real ale' right through to 'it's completely different from real ale.' This almost universal confusion has resulted from British brewers defining the craft element as being specifically about the new or unusual flavours and styles rather than the more obvious hand-made craftsmanship of the actual brewing process. Whether this was a planned, coordinated marketing policy is very doubtful.
Although something over 50% of all beers bearing the soubriquet 'craft' are cask beers (and many are excellent) the word has become so loaded with hype and mistrusted as just marketing-speak that it is losing its impact. Nevertheless in less than three years, since 2012, craft beers have more than doubled their share of the pub beer trade.
The cask ale drinker. The report attempts each year to make a socio-economic profile of the typical cask ale customer. In the eight years that this annual summary of the cask beer scene has appeared the picture has been broadly the same: broadly speaking the real ale drinker is an affluent drinker – over 60% are classed as A, B or C1, well above the demographic average; however for both age spread and geographic location they fit the national picture.
Not surprisingly cask beer drinkers visit pubs more frequently, are more loyal to specific pubs but most importantly, from the licensee's viewpoint, they bring other customers with them. They are by far the decision makers when it comes to choosing which pub a group should visit – making up to some three quarters of such group decisions.
The landlord's tale. Much of the report's mid-section advises landlords on strategies to take advantage of the growth in cask popularity. No one will be surprised to learn that the pub's ambience is the key factor and a goodly selection of 'regulars' goes a long way to providing it.
The point is made that the image of the real ale drinker as a bit fuddy-duddy is entirely false – on average they are much more likely to be keen users, for example, of social media – the report's author believes both a Facebook entry and a presence on Twitter are now essential to a pub. Other very important features are unquestioned offering of tasting samples, informative chalk boards with the beers' characteristics and clear outside signage.
Finally. The concluding page has some ideas for publicans to incentivise staff, the first is to mandate that every new cask ale is tried by the staff – should be popular…!
To see the complete report go to:
cask-marque.co.uk/cask-matters/ and click on the 'here' link in the introduction.

---
---
Competition Crossword Hop Press index
QUETZALCOATL (printable pdf version here 39KB download)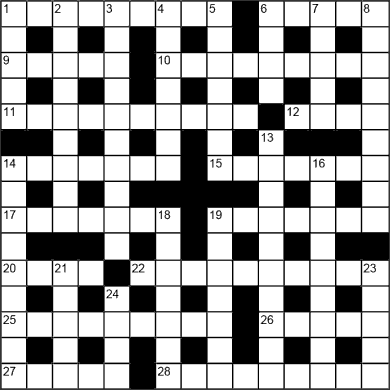 Seven of the solutions are of a kind and with no further definition.
Across
1.
3 set brandy aflame? (9)
6.
Jealousy makes me say too much – cut it! (5)
9.
Keyboarding twists a state head (5)
10.
Father, you said is dead, dead! It's settled (9)
11.
Wolves, born without reason to fear (10)
12.
300 pints! Very fishy… (4)
14.
A sunny spell of unbiased tennis (3,4)
15.
Depth of annoyance cloaks disgust say (7)
17.
Dictionary entry for 'Queensway?' (7)
19.
Stand for odd old inn even with named paint ® (7)
20.
Hamas may act rightly at heart (4)
22.
Thin fare he cooked up (10)
25.
Scent base is a horror to grind? Ah no! (5-4)
26.
Leading very informed eye – we seek opinions (5)
27.
I envied NASA regularly bettering odds (5)
28.
A different point, this uncommon air (9)

Down
1.
A crooner without love on the rebound (5)
2.
Drink Guinness? A unicorn might do! (9)
3.
Waiters in a race to finish off insects? (10)
4.
Old benefit traps quietly run on (7)
5.
Laid-back Russian grabs till initially (7)
6.
Jack's hill-climbing partner, Hob's mate (4)
7.
Headless fool say? (5)
8.
German bell sounds in English school (9)
13.
'Ned I am' not adding to score (6,4)
14.
Seafarers' alarm: the rock takes gold medal (5,4)
16.
Duck JB or you might need ointment (6,3)
18.
I won a bold, crazy, pointless juggling game (7)
19.
Pad out the sentence (7)
21.
A bender in church (5)
23.
Union has about 1000 jobs (5)
24.
Jihadis I seem part of (4)
Prizes to the first two correct entries drawn. Closing date: 31st December 2015.
Send to:
The Editor, Hop Press, 1 Surbiton Road, Eastleigh, Hants. SO50 4HY
---
Issue 78 (Spring 2015) Solution & Winners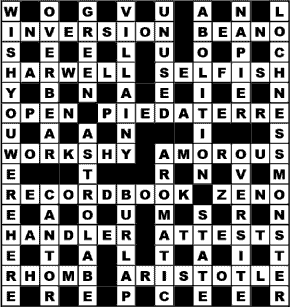 A moderate entry for this issue – nineteen correct and unfortunately three with errors – two of which were in 7 down where Napier, the discoverer of the logarithm, had presumably been expunged from memory after the last school maths class!
Winners:
Nigel Cox, St. Denys, Southampton
Trevor Smith, Alresford

The other seventeen correct solvers were:
Jocelyn Britcher
Rod Cross
Philip Doughty
Robert Elliott
G. T. Geary
J. E. Green
Stephen Harvey
Jean Jackson
Keith Jones
Rev Doc Kump
Guy Lawrenson
Garry Morse
Neil Mort
Ron Poole
Harvey Saunders
John Wiseman
John Yalden
---
---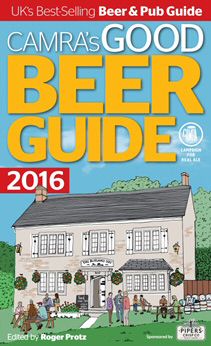 2016 Good Beer Guide (43rd Edition!) Hop Press index

Our annual flagship publication, the Good Beer Guide is out again in its 2016 edition. Over 1000 pages packed with indispensable information for the beer lover. Now with ever more details of our blossoming small brewery scene – over 250 of those pages detail them all, a unique feature of CAMRA's guide over all the others. Available at all good bookshops for £15.99, copies can also be ordered from CAMRA's headquarters in St. Albans – 01727 867201 or see our website: https://shop.camra.org.uk
---
---
Hop Press Issue number 79. Autumn 2015
Editor: Pat O'Neill
1 Surbiton Road
Eastleigh
Hants.
SO50 4HY
023 8064 2246
hop-press@shantscamra.org.uk
© CAMRA Ltd. 2015